There are 195 countries on earth and probably you would like to travel all of them. But unfortunately most of us do not have the time and the budget to make it happen. That is why here are five world trip routes for your next adventure! Find a route for your time and budget and travel to interesting countries which are really worth it.
Oceania, Asia, Europe, South America – 12 months – 20 Countries
This route is attractive for everyone. You will visit contrasting countries and learn quite different cultures. The focus of the route is on Oceania, Asia, Europe and South America. In 12 months you have time to spend between two and three weeks in each country. Moreover, you should plan some more budget in Oceania and Europe. In Asia and South America you will need less money.
New Zealand
Australia
Japan
South Korea
Phillipines
Indonesia
Singapore
Sri Lanka
Nepal
Jordan
Israel
Montenegro
Croatia
Slowenia
Austria
Germany
Belgium
Costa Rica
Chile
Argentina
Asia and South America – 6 Months – 12 Countries
Where are the Asia-lovers? This route is perfect if you love Asia and like to focus on it on your world trip. You will also travel South America to get some contrast to the asian culture. If you like to finish your world trip in 6 months, you can spend around 14 days in each country.
Nepal
Myanmar
Laos
Vietnam
Combodia
Thailand
Malaysia
Bali
Japan
Costa Rica
Panama
Cuba
Africa and Europe – 6 Months – 11 Countries
From South Africa to Western Europe. On this trip you will see impressive landscapes and national parks in Africa, but you also can enjoy sea and beaches around the mediterranean sea. See lions, giraffes or zebras in Africa and experience a real safari adventure! After this exciting time, you can enjoy the beauty of Europe and the taste of its good cuisine.
South Africa
Namibia
Tansania
Ghana
Egypt
Israel
Turkey
Greece
Italy
France
Spain
Portugal
Oceania and Asia – 5 Months – 10 Countries
This route suggestion is for the low-budget-travelers. That is why it focuses on classic backpacking-countries. Especially in Asia you can travel from country to country with little money. In five months you have time to see each country for about 15 days on average. It makes sense to spend some more time in the larger countries like Australia or Indonesia. You should spend less time in the small city-state Singapur.
New Zealand
Australia
Indonesia
Singapur
Malaysia
Thailand
Cambodscha
Vietnam
Laos
Hongkong
All Continents – 12 Months – 20 Countries
The last but not least of our world trip routes needs some more budget. But if you saved some money, this route will be life-changing! You will visit each continent on earth and 20 different countries. It focuses on scenic and breathtaking landscapes. But you will also visit countries with impressive cities. Certainly, in twelve months you will develop a completely different understanding for other cultures.
Canada
USA
Mexico
Chile
Brasil
Namibia
South Africa
New Zealand
Australia
Indonesia
Malaysia
Nepal
Turkey
Greece
Poland
Estania
Finland
Sweden
Norway
Iceland
---
Hopefully you liked our five route suggestions for world trip adventures! If you need some more tips or inspiration for your world trip adventure, have a look at the article "Tips for planning your world trip".
---
Plan your individual world trip route with Lambus!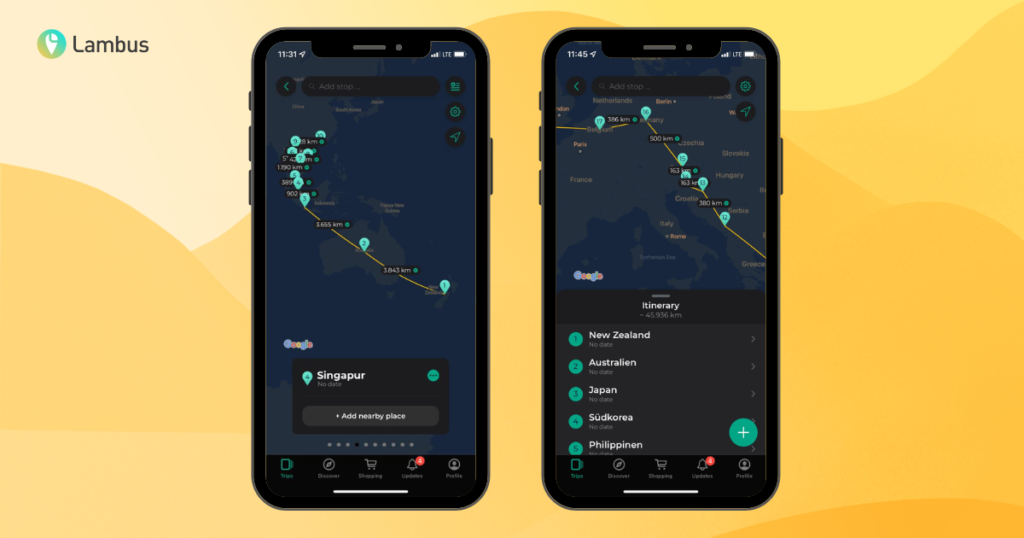 Plan as many waypoints as you need, have an overview of all your expenses, book an accommodation and much more! Lambus supports you in every single step – from planning over traveling to pure pleasure!
https://play.google.com/store/apps/details?id=io.lambus.app