Layovers at the airport can be exhausting, but fear not, weary travelers! In this comprehensive guide, we'll show you how to turn those long hours at the airport into a restful night's sleep. Get ready for a few hours of sleep and wake up refreshed for the next leg of your journey! 😴
Enjoy the sleep experience at the airport
🌙 The art of airport sleep: discover the art of finding comfortable seats, creative positions and travel essentials for a restful sleep at the airport.
🌙 The benefits of airport sleeping: find out the advantages of sleeping at the airport: you'll save money on accommodation, be less tired and make better use of your limited time at the airport.
🌙 Lambus: Your airport sleeping companion: while Lambus doesn't offer sleeping options, it does provide you with important travel information to help you plan your layovers, access airport information, and even find nearby lodging if needed.
Finding the perfect place to sleep
🛏️ Terminal Tranquility: find quiet corners, secluded areas or designated sleeping zones in the airport to get a peaceful night's sleep.
🛏️ Airport Lounges: discover the benefits of airport lounges and how you can take advantage of them. They provide a comfortable environment with amenities for a restful night's sleep.
🛏️ Lambus: Navigating the Airport: use Lambus to access airport maps and floor plans to help you find the best places to sleep and facilities in the airport.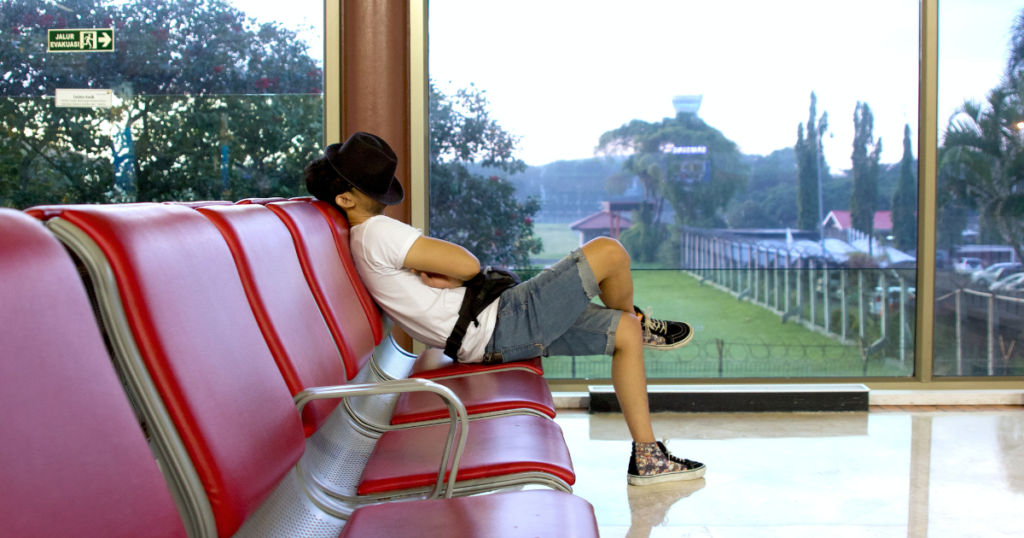 Important tips for a restful sleep at the airport
😴 Basic items for sleep: pack the essentials to ensure a comfortable night's sleep, such as a neck pillow, blanket, earplugs, sleep mask, and comfortable clothing.
😴 Safety and belongings: Learn how to keep your belongings safe while you sleep, including tips for securing your luggage and storing valuables.
😴 Lambus: Stay organized: Use Lambus to keep track of your belongings and important travel documents and ensure a stress-free night's sleep.
Hacks and tricks for sleeping at the airport
💤 Noise-canceling technology: use noise-canceling headphones or apps to drown out airport noise and create a quiet sleeping environment.
💤 Set alarms and reminders: Learn how to set alarms or notifications on your phone or with Lambus so you wake up in time for your next flight.
💤 Lambus: Stay up to date: Use Lambus to keep you updated on flight schedules, delays, and gate changes to ensure a smooth transition when you wake up.
Airport sleeping etiquette
🤫 Respectful sleeping habits: Be aware of your surroundings, keep noise to a minimum, and respect the space of other travelers.
🤫 Lambus: Flight warnings and notifications: Take advantage of Lambus' flight alerts, which keep you informed of any changes and announcements related to your flight.
Make the most of your layover
☕️ Refuel: Explore airport restaurants where you can grab a meal or a cup of coffee to fuel up before or after your sleep.
☕️ Explore the airport: use Lambus to discover amenities, stores or attractions near the airport to make the most of your layover time.
With these tips and tricks, you'll be well equipped to handle the challenges of sleeping at the airport. Remember that a little preparation and a positive attitude can go a long way in ensuring that you have a pleasant and restful experience. Embrace the adventure and make the most of your layovers while enjoying a restful night's sleep at the airport. Have a good trip and sweet dreams! 😴
Read more about Tips for a night in the hostel – How to survive the night with 15 people in the room
Or follow us on Pinterest, Facebook and Instagram!
---
Lambus is an All-In-One travel platform. Your whole trip in your pocket: Waypoints, expenses, tickets, photos, and more!