Planning a USA West Coast road trip? Check out this guide that lists all the places you can't miss on your West Coast Road Trip route!
A trip to the west of the USA has a lot to offer. Pulsating metropolises, untamed coasts, beautiful national parks and seemingly endless desert landscapes create unforgettable impressions and experiences. In this article we would like to introduce you to 18 places that you should not miss on your journey through the west of the USA.
---
This article contains advertising links with our recommendations. With the booking/purchase via one of the links we receive a commission with which you support our work. Of course it costs you nothing extra! Thanks for your support!
---
San Francisco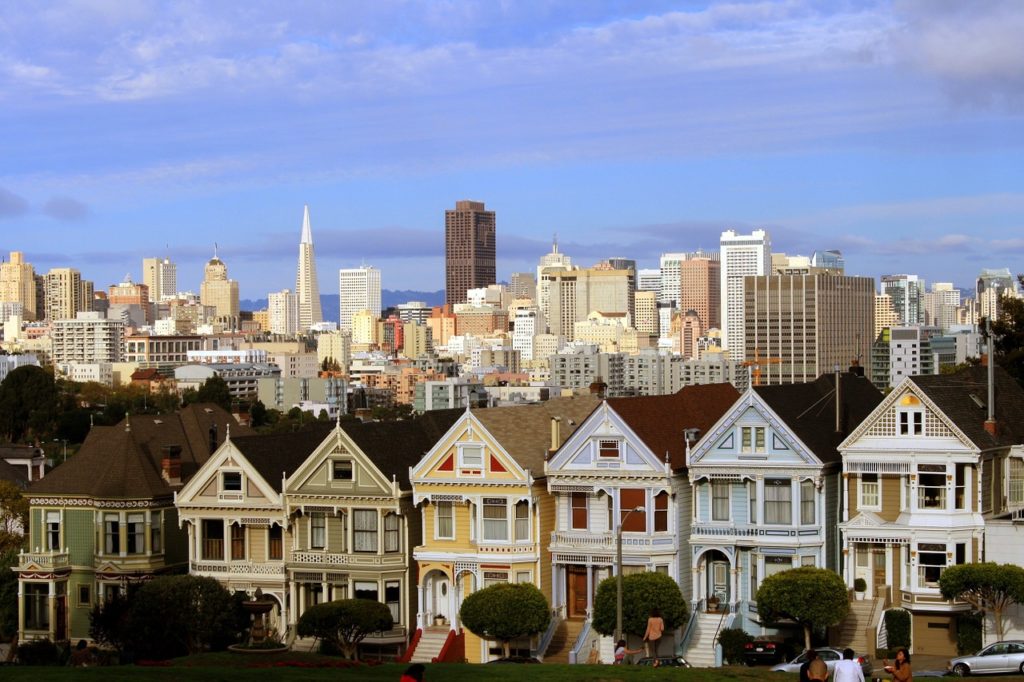 "If you're going to San Francisco, be sure to wear some flowers in your hair." San Francisco: the city of hippies, creative minds and thinkers. Of colorful, beautiful little houses, many small cafés and roasting houses.
But keep in mind that San Francisco is a really expensive city. So be prepared for high prices and budget before you arrive. It's not uncommon for you to pay up to $30 per person for breakfast! San Francisco also has an undeniable drug and homeless problem. For a few years now, the city has been suffering from a real estate crisis, or rather from the fact that rents in the city centre have risen sharply and fewer and fewer people can afford an apartment. As a result, more and more people are living on the streets. Especially in the problem area "The Tenderloin" the misery becomes clear.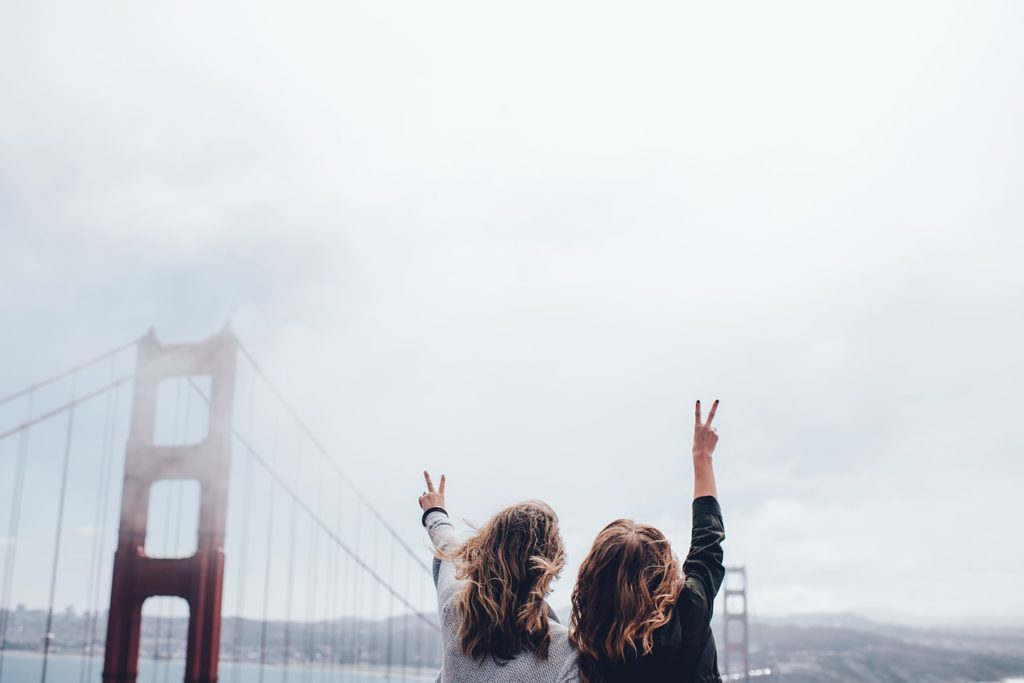 However, San Francisco is a wonderful city and you should not be deterred by the problem of visiting it. Unfortunately, there are many cities in the world where poverty lives right next to wealth and yet they are worth a trip. In my opinion it is important to know about them and not just to see the glittering wealthy side of this world.
Our tip: If you are here for the first time, plan at least 3 days for the city – there is so much to discover!
If you'd like to read more about San Francisco, here's an article for you that describes the different neighborhoods with their peculiarities and sights.
Advertising
Next stop on your West Coast tour: Monterey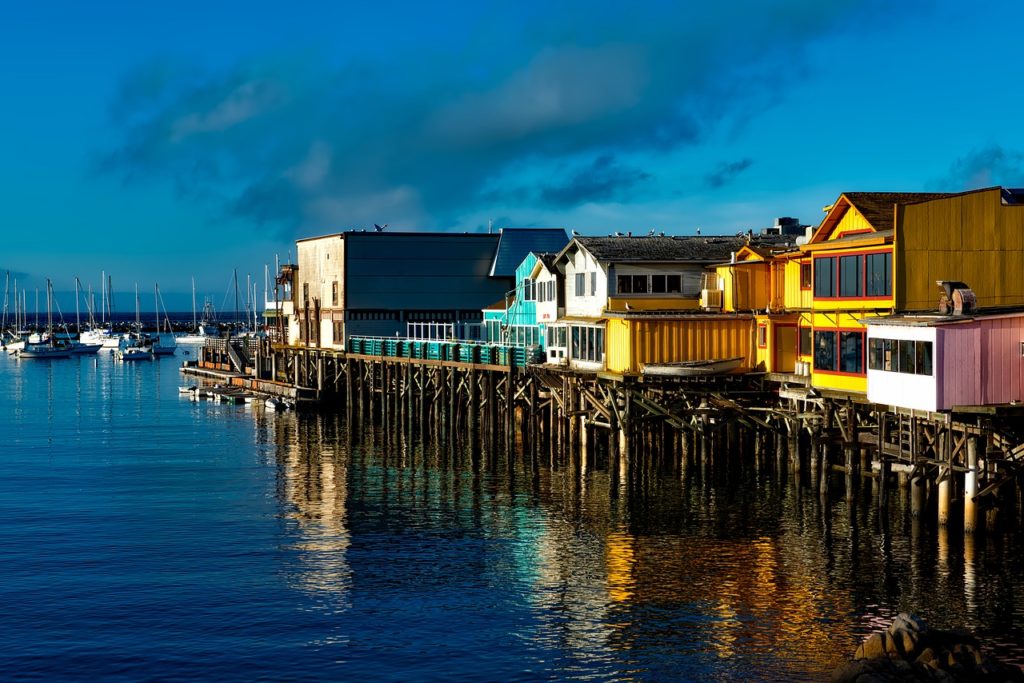 Then it goes to Monterey – the first stop at the legendary Highway No. 1. Monterey County sits on California's postcard-perfect central coastline. The area is full of dramatic cliffs, sand dunes, fishing ports, redwoods and cypress forests. You can go on a historic mission, wine tasting, eat mussel soup, explore a lighthouse, visit the famous Monterey Aquarium, interact with seals, sea lions, whales and sea otters, kayak, ride bikes, hike and a tee off at a world-class golf course.
The highlight will follow afterwards: The 17-Mile-Drive!
Advertising
Big Sur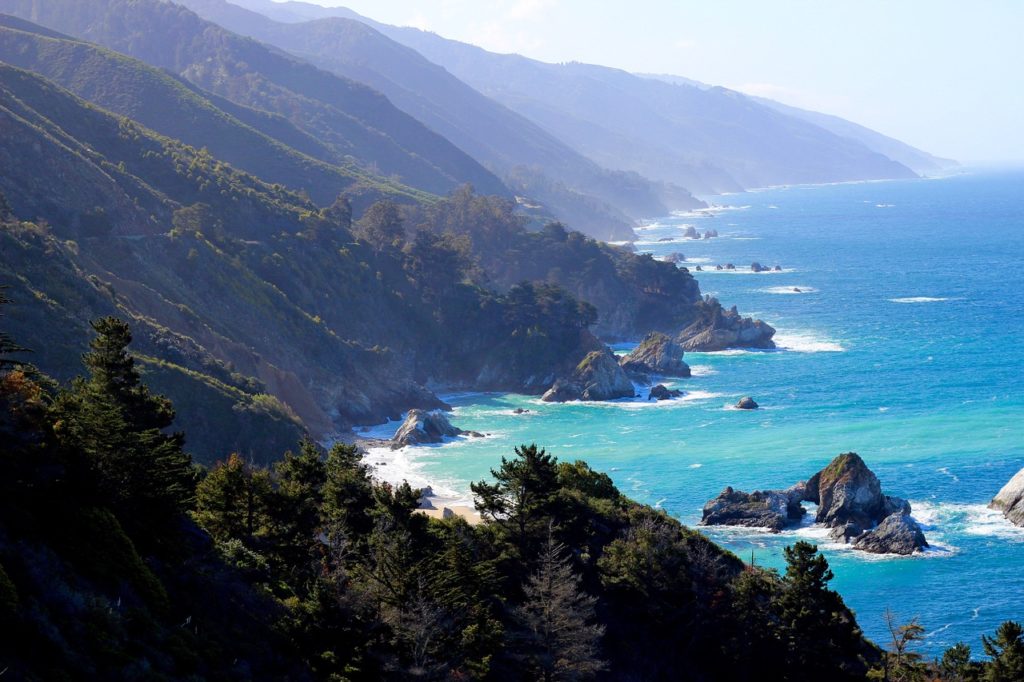 If you don't have that much time, it is quite possible to experience the magic of Big Sur on a day trip. But, let's start with the basics: Big Sur is a 90-mile stretch along the Pacific Coast Highway. It has no official start point and end point but most say it begins at the Carmel River and ends just north of San Simeon. Big Sur is considered one of the most scenic drives in the USA for its dramatic coastal views.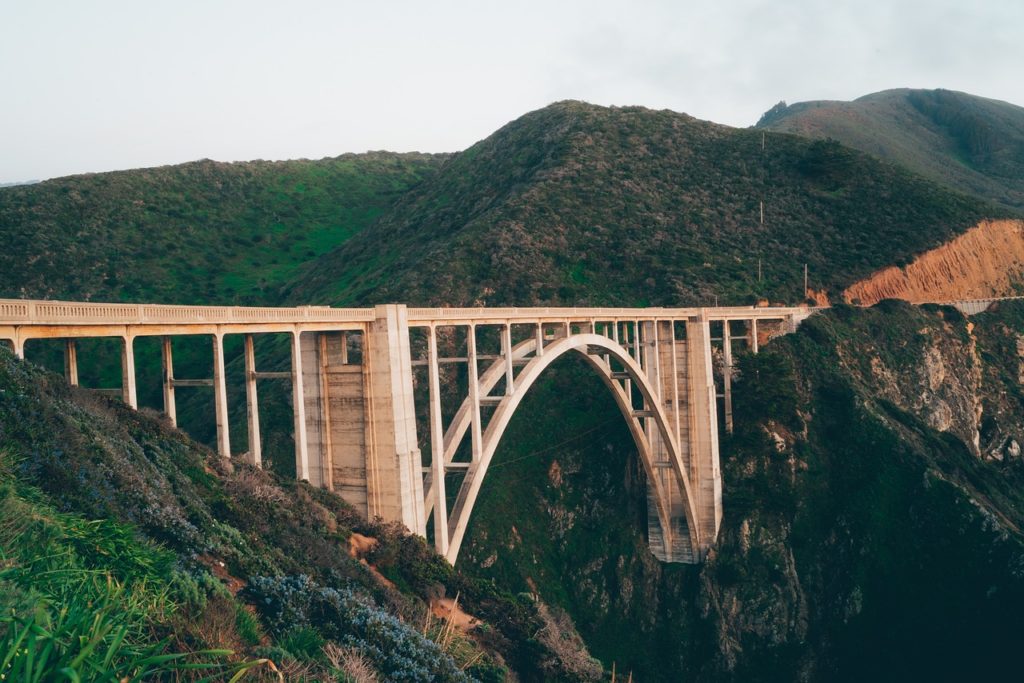 Our Tip: Instead of fighting for parking on Highway 1, pull onto the dirt road just north of the bridge. This dirt road used to be the way into Big Sur.
Where to stop along the route
Of course you can always do what you like, but we recommend these stops especially:
Point Lobos Natural State Reserve
Garrapata Estate Park & Calla Lily Valley
Bixby Bridge
Pfeiffer Beach
McWay Falls
Morro Bay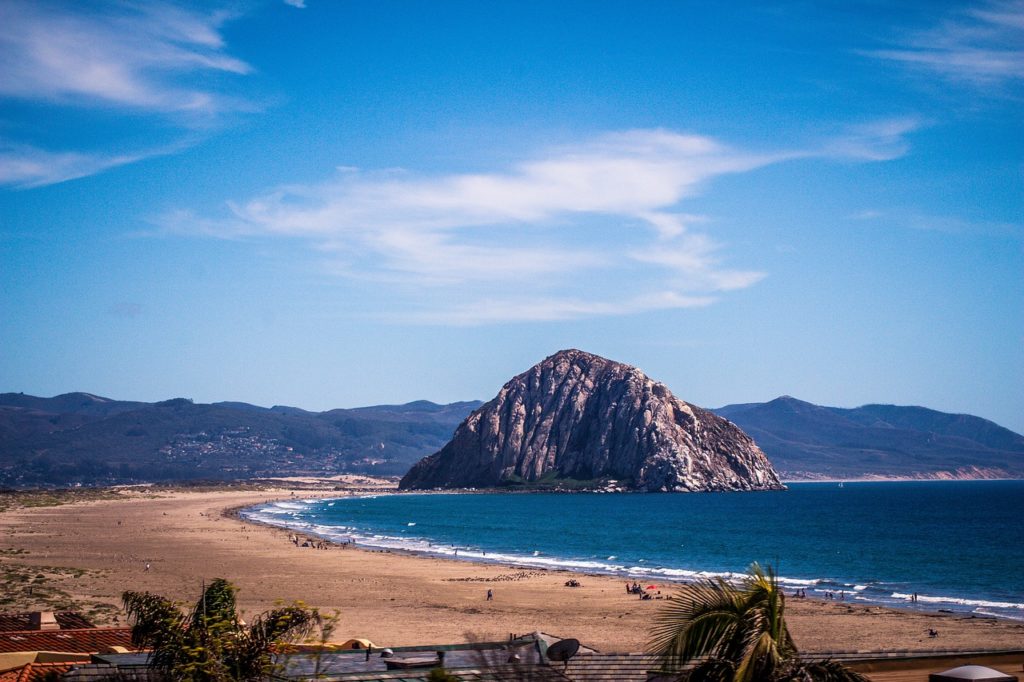 Morro Bay is located in California's Central Coast, on scenic Highway One. Like, literally, the Pacific Coast Highway runs right through town. It is a foggy, temperate beach town with more eucalyptus trees than palm trees, more otters and surfers than Tan People on skates. In short, the Central Coast is not comparable to Southern California. Not at all.
Morro Bay is located on a natural harbor, making it a fantastic place to see marine wildlife. It is a natural refuge for animals like harbor seals, sea lions, sea otters, snowy plovers, peregrine falcons, and more.
Our tip: Bring a jacket, it will be colder than you think. The Central Coast has quite different weather than the warm, sunny beaches in SoCal, and the salty air can be quite chilly!
Santa Barbara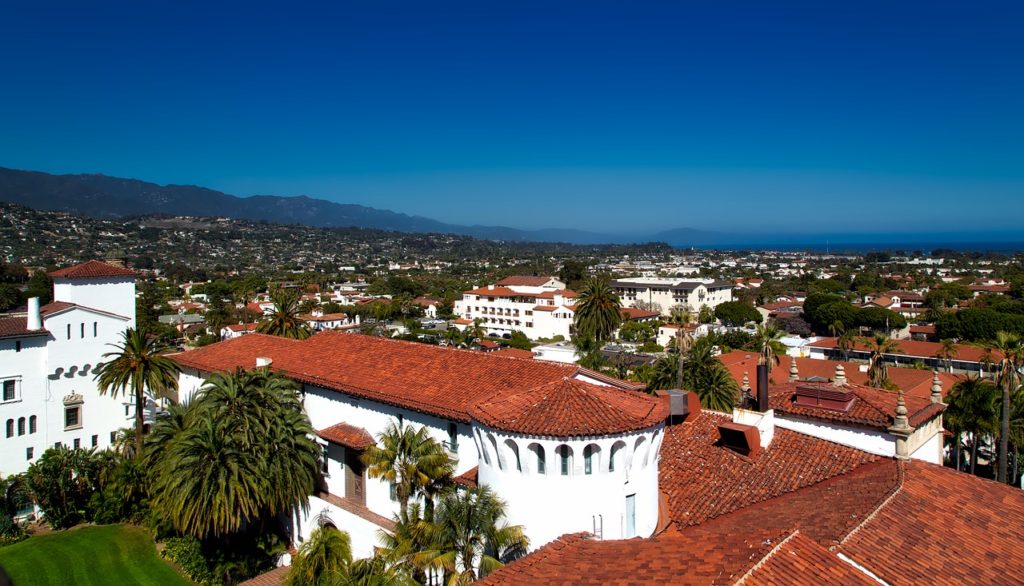 The eclectic town of Santa Barbara offers numerous charms, including both ocean and mountain scenery, multiple vineyards and wineries, Old World architecture and a wealth of ways to relax or get active.
Before we talk about all of the activities, let's talk about parking. Our tip: Get to the city early and park on the street right next to the beach. It's free and you can park there all day.
What to Do in Santa Barbara
Tour Old Mission Santa Barbara
Stroll East Beach and Stearns Wharf
Unwind at Goleta Beach Park
Watch the Sunset at Butterfly Beach
Advertising
Los Angeles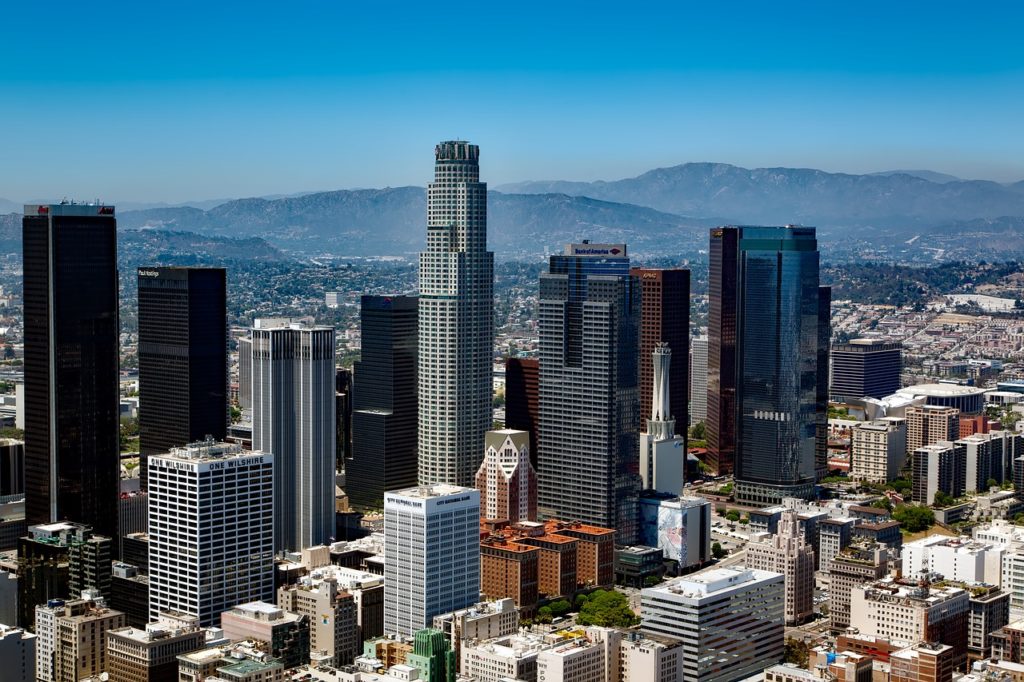 Los Angeles is a city that never ceases to surprise in the best way possible, from the diverse range of restaurants to the neighborhoods that can feel like different worlds. The truth is that planning a trip to LA, whether it's for 2 days or an entire week can be overwhelming and trying to fit a hundred things into one visit just isn't practical. Instead focus on a few main sights a day, ideally within the same area (because otherwise you will just spend your time in the car, most likely in traffic).
Popular Instagrammable Locations (but still cool)
Urban Light Exhibit at LACMA
Griffith Park/Observatory
Santa Monica Pier
The Broad
OUE Skyspace LA
The Getty Museum
Paul Smith's Pink Wall
Hollywood Sign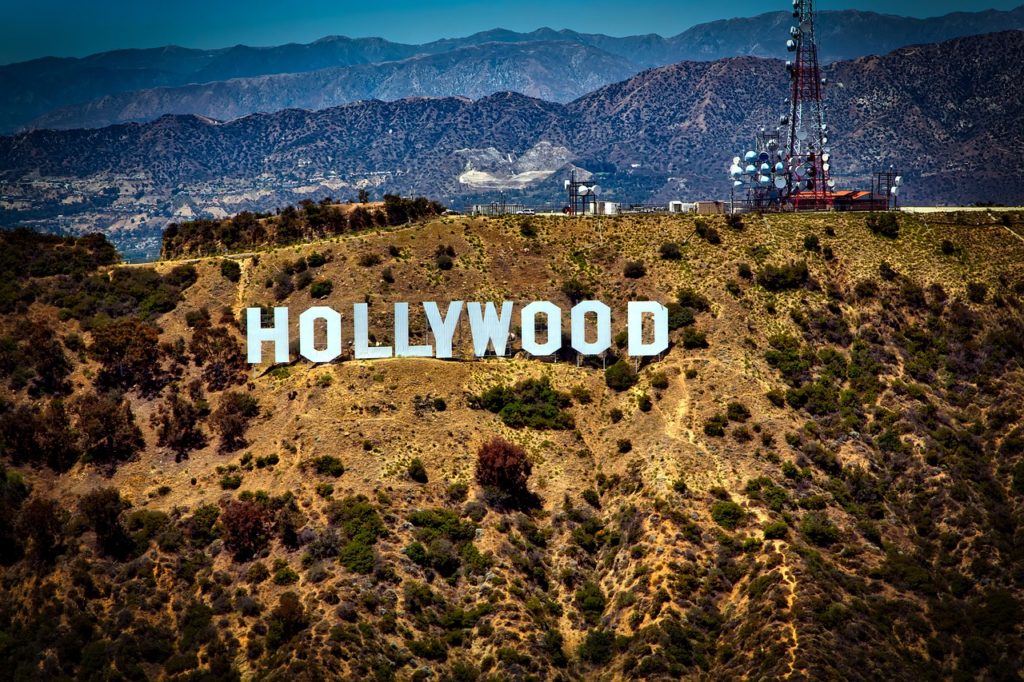 Advertising
Las Vegas
Let's go to Sin City – Las Vegas! Las Vegas is one of those destinations where you can experience as much or as little as you like, but there is always something to do. You should not miss it on your West Coast tour.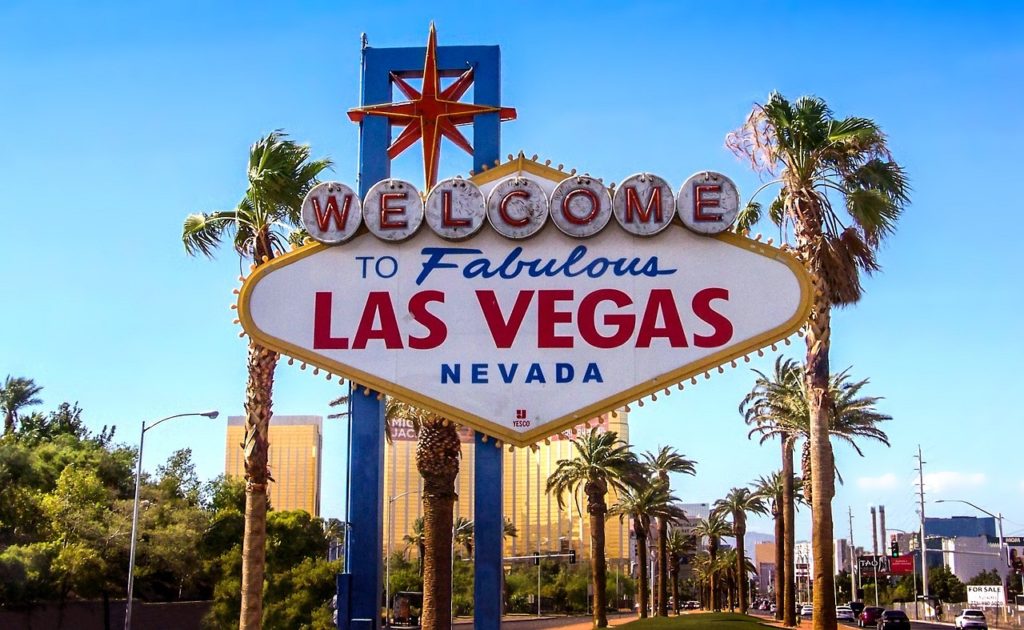 No trip to Las Vegas is complete without visiting the famous "Welcome to Fabulous Las Vegas" sign. This iconic neon sign is located in the median at 5100 Las Vegas Boulevard South.
The Neon Museum (770 N Las Vegas Boulevard) is also a sight not to be missed. Not only is it one of the best photo spots in Las Vegas, but it's an amazing slice of Vegas history. It's a non-profit outdoor museum that displays old neon signs from the Las Vegas area.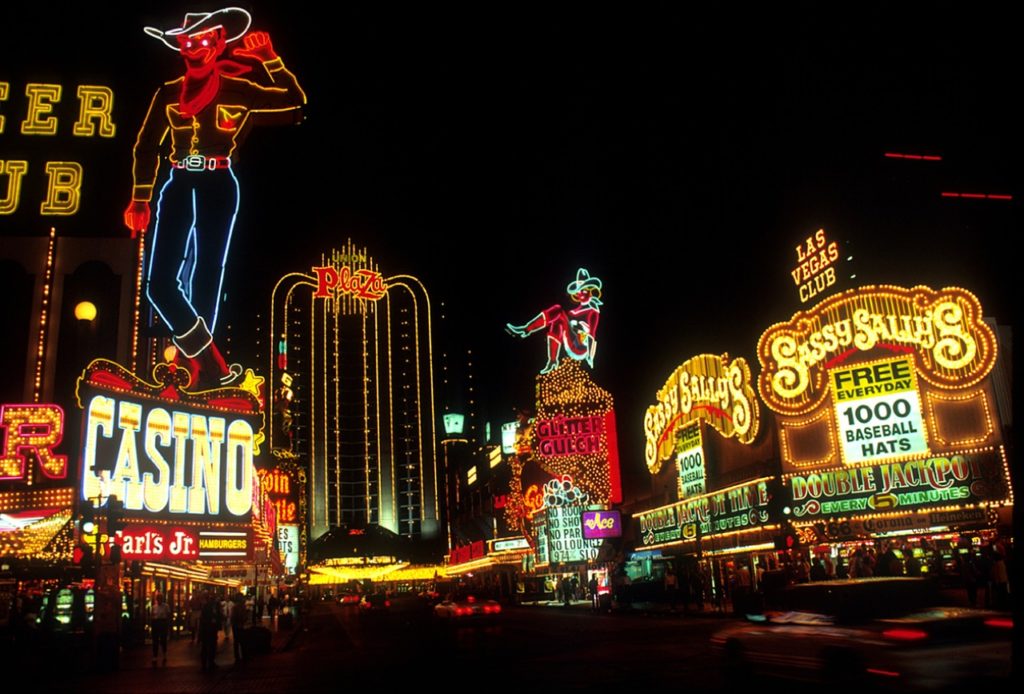 As it gets dark, head over to the Bellagio to witness the famous fountains. This Las Vegas landmark gets crowded around 5-10 mins before each show, so grab your place and wait for the magic.
Advertising
Grand Canyon National Park
Even if you're already turning your back on Las Vegas, you can look forward to the coming days in the national parks and nature.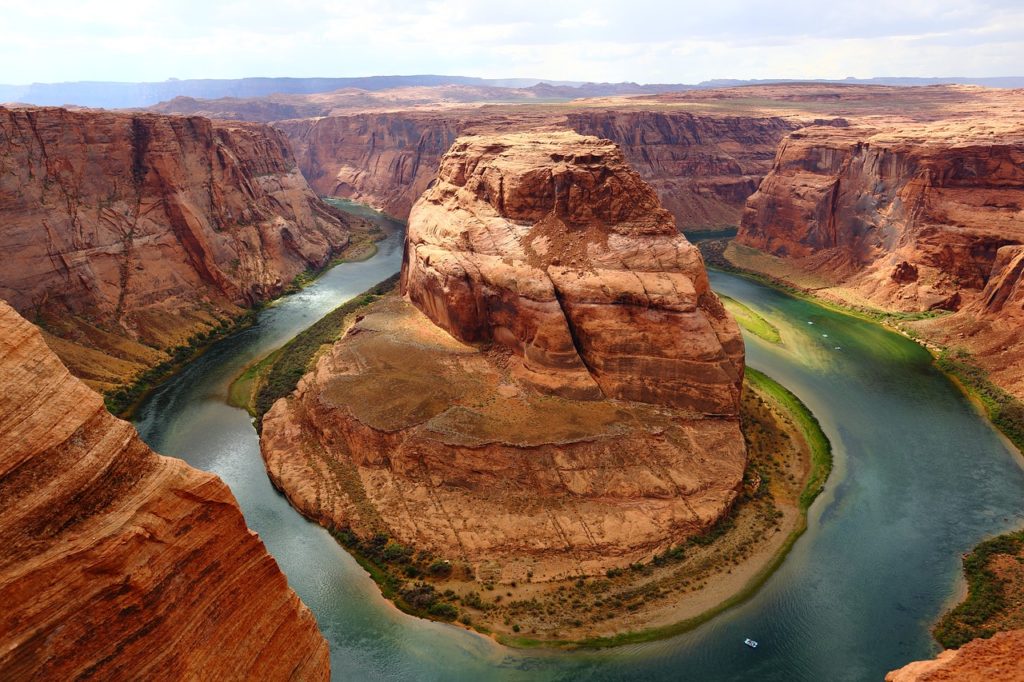 The Grand Canyon is part of every West Coast tour. It extends over an area of almost 5000 square kilometres and is a very popular destination for excursions. About 5 million people visit the park every year. The South Rim is the most visited point at the Grand Canyon due to its good connection. From Flagstaff AZ you reach the South Rim via the US Hwy 180. Especially in summer you should leave early as it can get very crowded. The entrance fee to the park is 25$ per car for one week.
Once in the park, you can explore the Grand Canyon on the Rim Trail. The trail is 20 km long, offers enough shade, comfortable paths and many viewpoints. If you don't feel like walking, you can also take an air conditioned shuttle bus from A to B. The price for the shuttle bus is already included in the price.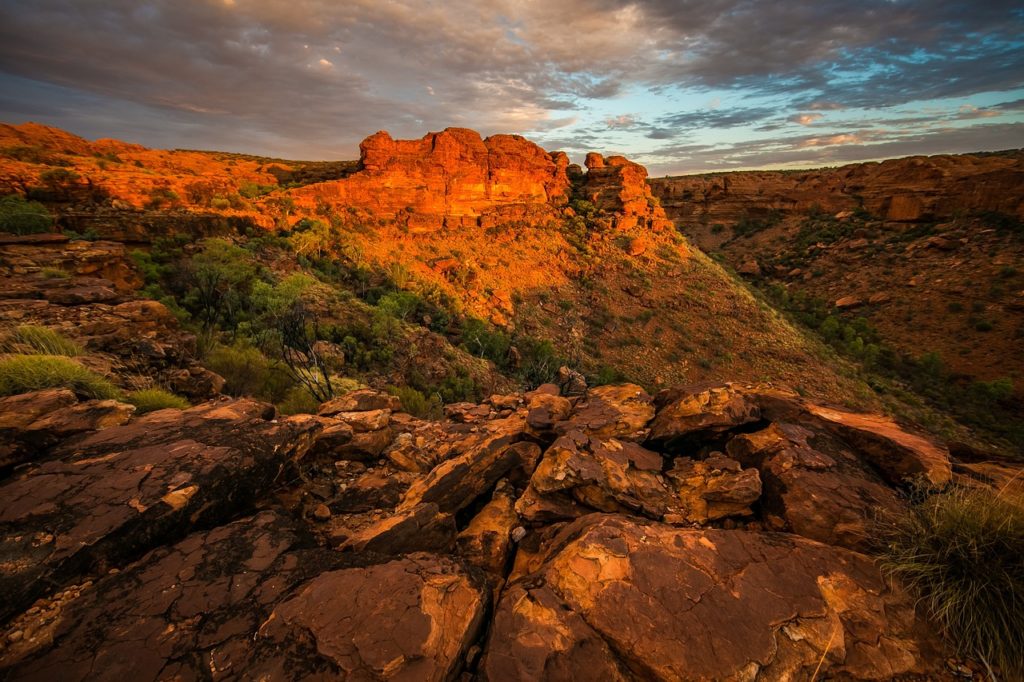 If you are planning a visit to the South Rim, you can either stay in Flagstaff or Williams. Both places are about 1 hour from the South Rim. In the park itself, the Bright Angel Lodge offers overnight accommodation. If you want to stay here, you should reserve in advance. Depending on the type of room, an overnight stay here is also not very cheap. Another possibility is the place Tusayan before the gates of the park. Here, too, you should reserve a room in advance, depending on the season.
If the South Rim is too full for you, you should visit the North Rim. It is open from mid-May to October. The drive between north and south rim is about 346 km.
The Grand Canyon is really impressive and it's really hard to describe what it's like to see the Grand Canyon for the first time. A visit here is definitely worth it.
Our tip: If you only have one day in Grand Canyon and don't feel like planning your own itinerary or worrying about the practical details, you can also visit the Grand Canyon with an organized day tour.
Advertising
Next stop on your West Coast tour: Antelope Canyon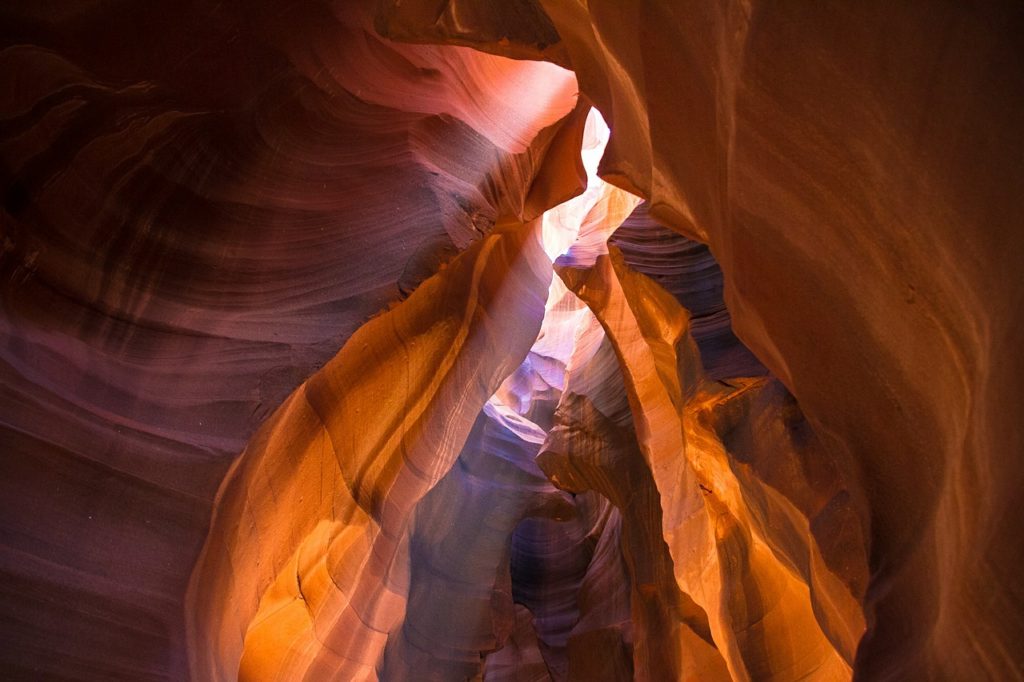 The Antelope Canyon is a slot canyon located just east of Page, on Navajo land. It's known for its wave-like walls and beautiful light beams. The canyon formed as a result of millions of years worth of erosion. Waters, primarily from flash flooding, carved pathways through the soft sandstone. Antelope Canyon is separated into two separate sections, Upper and Lower Antelope Canyon. A tour by a licensed operator is required to visit either of the sections. There are different tours that operate Upper and Lower, and separate bookings are required if you wish to visit both.
Our tip: Both of the canyons are extremely popular and can get very crowded. I would recommend making a reservation in advance.
Advertising
Monument Valley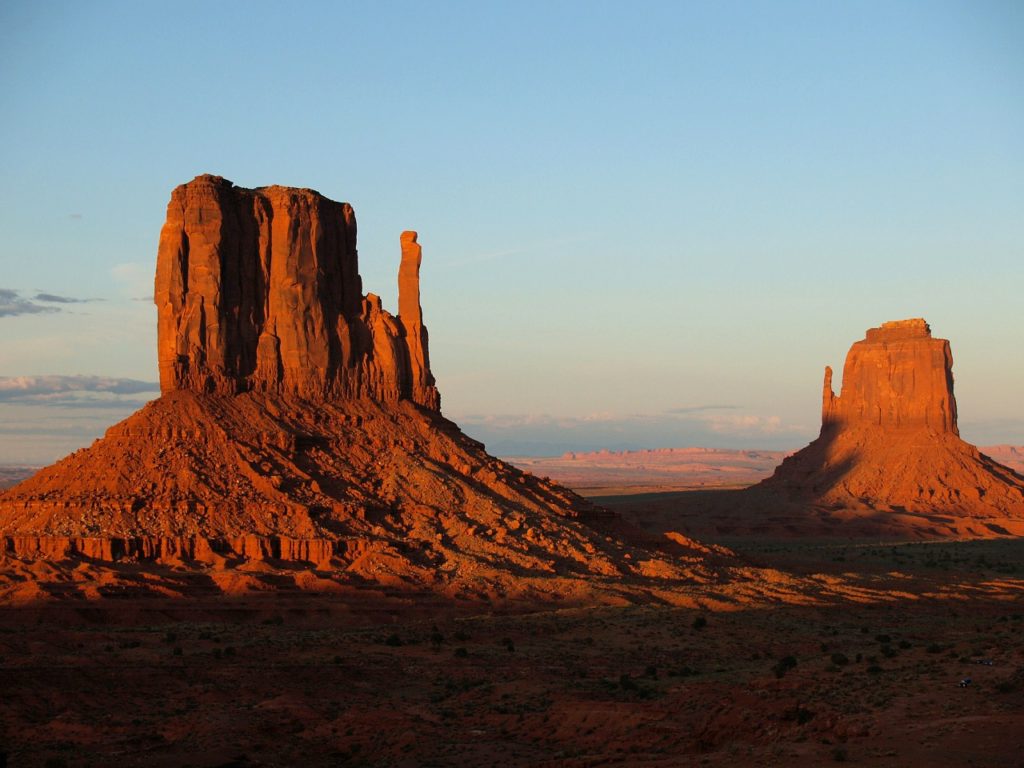 Monument Valley offers a real "Western feeling". In the middle of an empty red sandy desert, free-standing red mesas rise up. This motif can be found in countless films, travel guides, brochures or magazines. Thus it is probably one of the most famous motives in the west of the USA. The plain on the Colorado Plateau is located at the southern border of Utah as well as in the north of Arizona. Monument Valley is within the Navajo Nation Reservation and is administered by the Navajo Indians.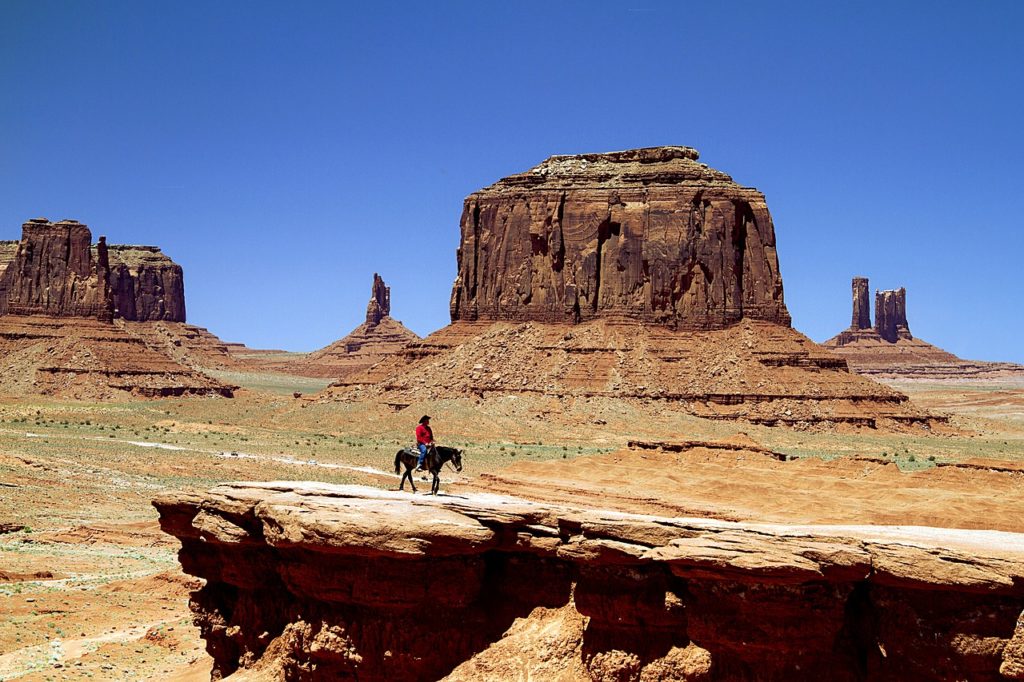 There's a car loop through the valley. This starts at the Visitor Center. You can drive the Scenic Drive with your own car or take one of the guided Jeep tours. The guided tour also takes you to parts of the valley that are closed to private traffic. The Monument Valley is particularly attractive at sunset, when the rocks are illuminated by the setting sun.
Our tip: Spend one night in the Valley as this will allow you to see it early in the morning or at sunset, when the rocks burn in the light of the sun low on the horizon.
Advertising
Canyonlands National Park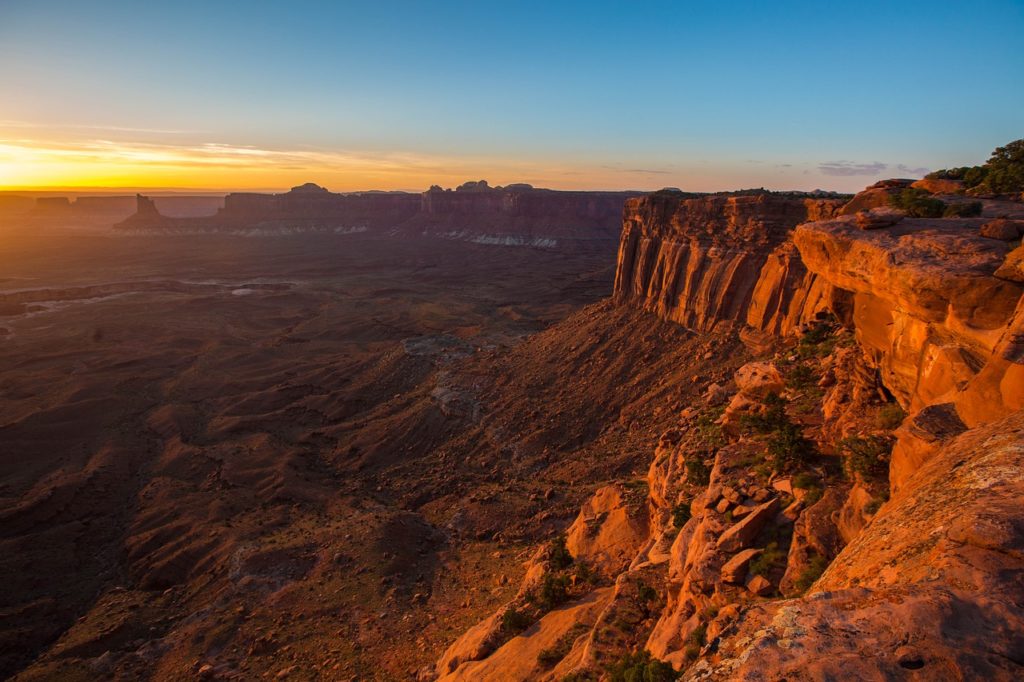 Canyonlands National Park is located in the state of Utah. In the middle of the Colorado Plateau millions of years ago, the Colorado and the Green River formed a huge landscape of rocks and stones. The Canyonlands are divided into three areas: Maze, Island in the Sky and Needles. You can comfortably explore the park on asphalt roads or, if your car has four-wheel drive, drive on one of the natural roads. However, this is a real adventure. The roads are sometimes very narrow and the abyss next to them very deep, so that you hoped all the time that nobody would come towards you.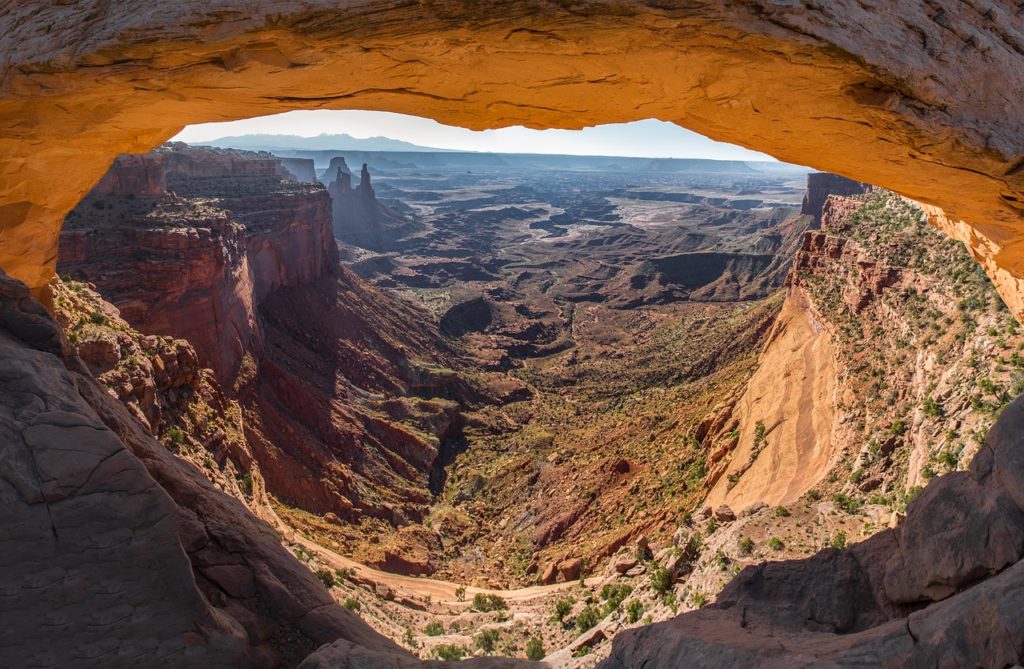 One of the most famous points in the park is probably the Mesa Arch, which has already been immortalized on countless photos. You can reach it via an easy footpath from the Grand View Point or Green River viewpoint.
At sunrise, expect to share the view with many photographers who are trying to capture this iconic view of Canyonlands. As the sun rises, it illuminates the underside of the arch, creating a very beautiful scene. If getting here at sunrise sounds too early for you, you can still get a similar effect up to an hour (and maybe a little more) past sunrise.
Advertising
Arches National Park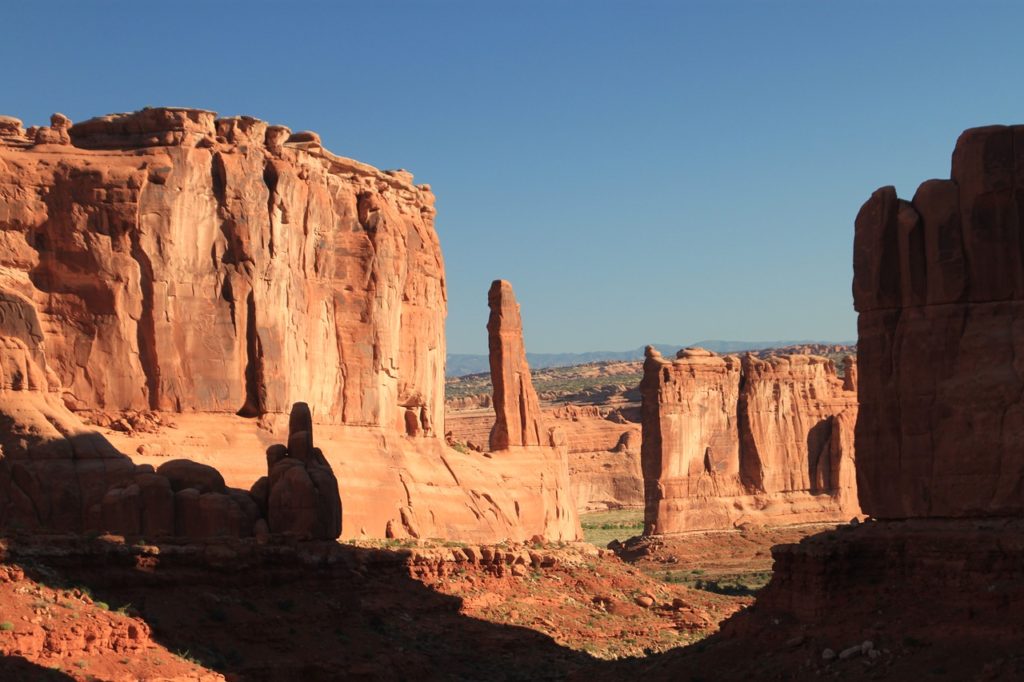 Arches National Park is a wonderland of desert vistas, short hiking trails, strange rock formations, and you guessed it, arches. Not only will you find over 2,000 arches here, but you will also see hoodoos, fins of sandstone rocks, massive mesas, and balanced rocks. You can explore the park comfortably by car. Furthermore, there are numerous hiking trails with different levels of difficulty at your disposal. Some of them lead under the arches to the different vantage points.
There is one road that travels through Arches National Park and that is Arches Scenic Drive. It is 19 miles in length, from Highway 191 to the Devils Garden trailhead in the back of the park. It takes about a half an hour to drive the total distance, but it will take much longer than that, as you ooh and aah at the arches and detour to various viewpoints and hiking trails.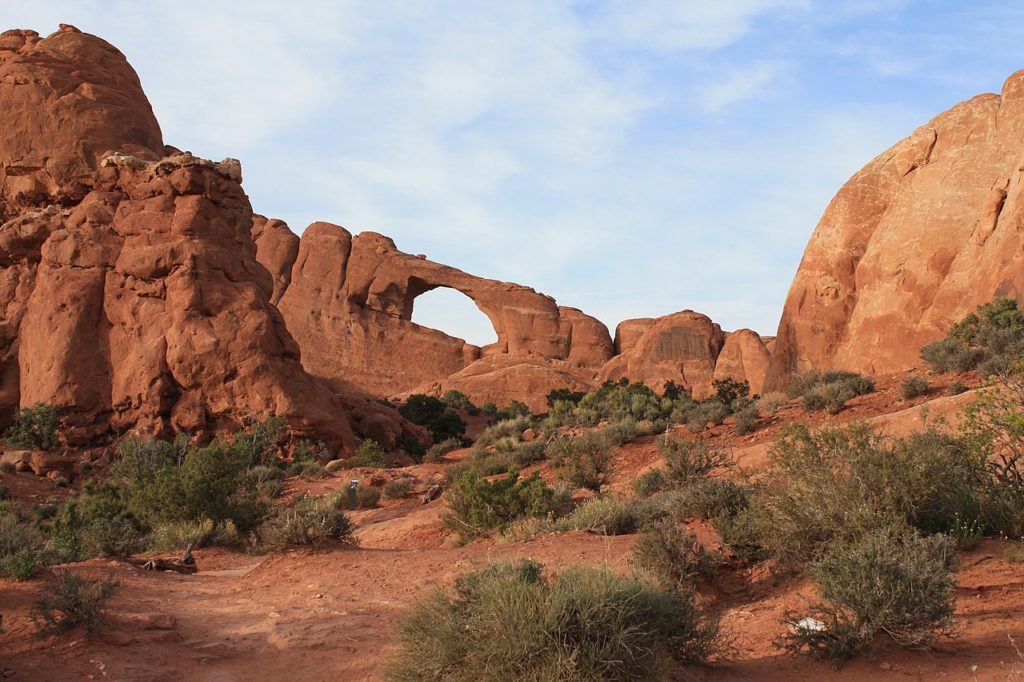 Our tip: Moab is a good starting point for the Canyonlands and the Arches National Park. The town is only a few kilometres away from both National Parks. From here you can also go whitewater rafting on the Colorado River. In the season, however, it is very crowded, so it is better to reserve a room in advance.
Advertising
Bryce Canyon National Park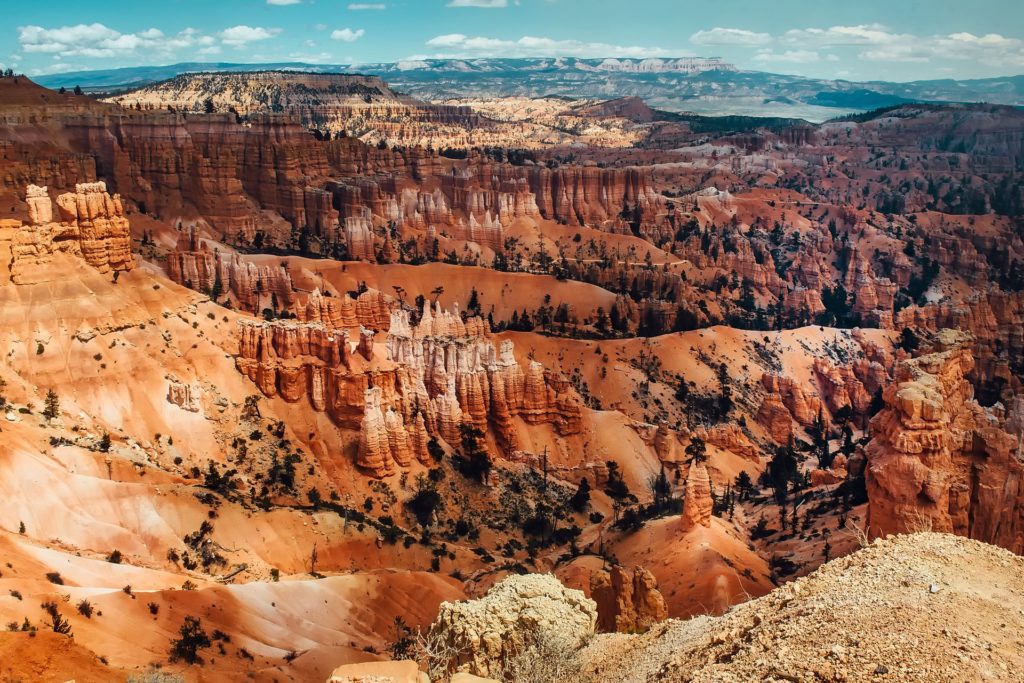 The Bryce Canyon reminds a little of a stalactite cave. Red tower-like limestone formations called Hoodoos rise up to 60 meters. The canyon lies in the southwest of Utah at an altitude of 2,400 – 2,700 meters. Due to the altitude, pleasant temperatures prevail here even in summer. In the evenings it is often quite cool, so you should have appropriate clothing with you.
Bryce Canyon is compact, at least for a National Park. One day is all you need to explore this park. With one day, you can hike through a garden of hoodoos, take in the view from multiple viewpoints, and thoroughly explore the park. With a shuttle or with your own car you can visit the 14 viewpoints over a distance of 29 km. You can also explore the canyon on foot. There are two easy hiking trails, which are also suitable for inexperienced hikers.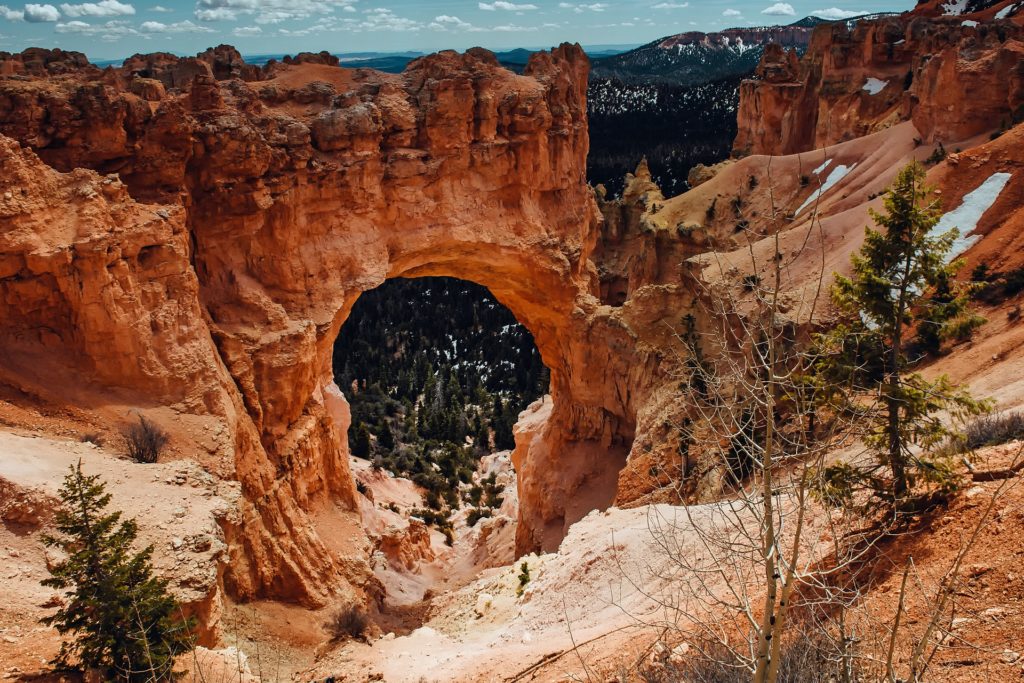 Bryce Canyon is filled with hoodoos. "Hoodoo" can be defined as witchcraft, a combination of voodoo and folk magic, usually used in the deep south of the United States.
"Hoodoo" can also be defined as a tall, thin spire of rock that protrudes from the bottom of an arid drainage basin. Geologically, hoodoos are found all around the world, but they occur in the most abundance in Bryce Canyon. Here, hoodoos are the main ingredient of this unique landscape. The thousands of hoodoos in Bryce are what attracts so many visitors every year.
Advertising
Next stop on your West Coast tour: Zion National Park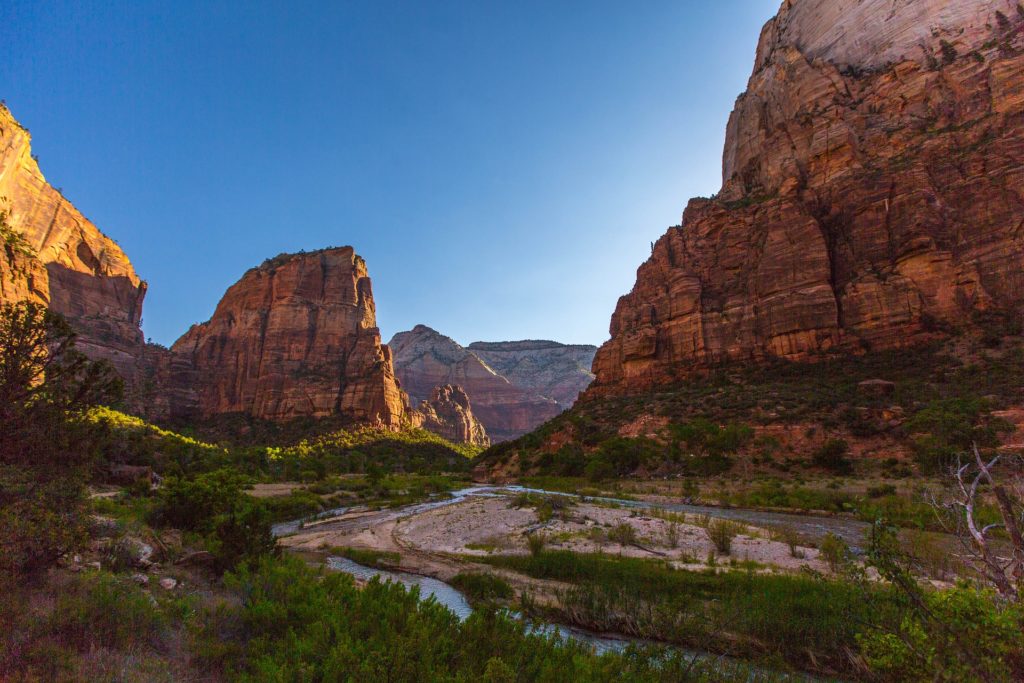 Welcome to paradise! Filled with endless geological works of art, soaring pinnacles, sprawling arches, and magnificent rainbow-colored rocks, Zion National Park is one of the best places in the world for sightseeing. Prepare to be mesmerized by this natural wonder's overwhelming beauty, accentuated by the deep orange and dark red glow of magnificent sandstone formations and the fine, graceful charm of delicate plants sprouting from crystal-clear streams and weeping canyon walls.
Zion National Park is open all year, but it receives the majority of its visitors in summer and early autumn. In spring (March-May), the spring thaw creates magnificent seasonal waterfalls in the main canyon, but some of the most popular attractions are closed due to the Virgin River's spring runoff. From June onwards, all sections of the park should be open, but due to the summer tourist season, from mid-May to mid-September, you could end up in unbearable crowds.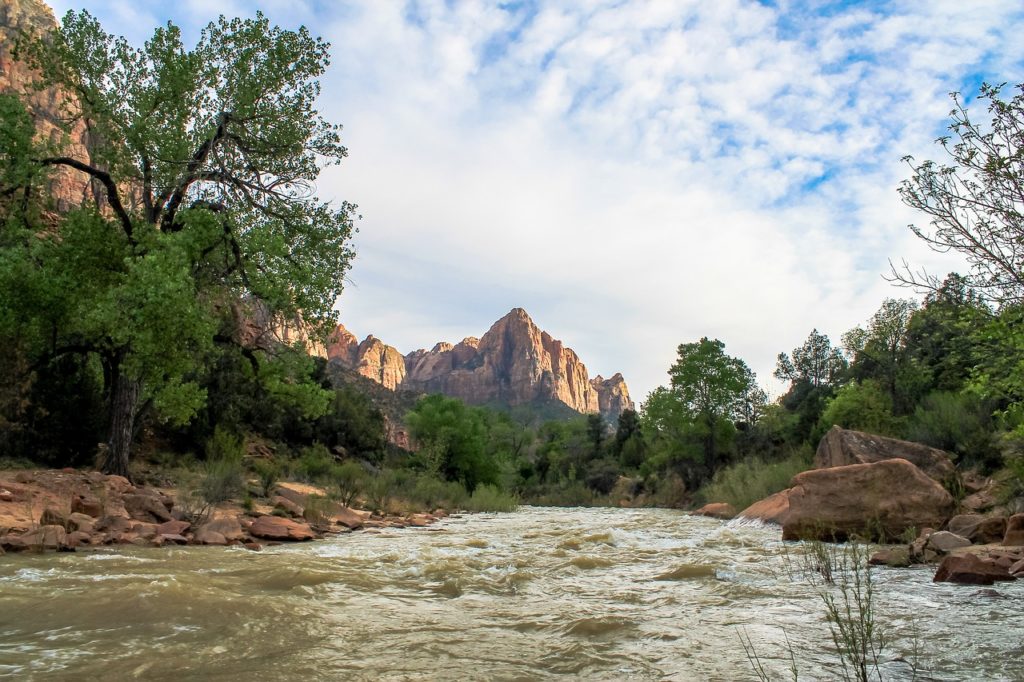 Our tip: The best time to go to Zion National Park is the second half of September. The weather is still hot, the days clear, and the rivers warm. Moreover, the leaves begin to change in September, leading to some spectacular views.
When you visit Zion National Park, the first thing you should do is check out the Zion National Park Visitor Center to see which attractions are open and safe to explore. Oftentimes, some areas are closed or dangerous due to potential rockfalls or flash floods.
Advertising
Death Valley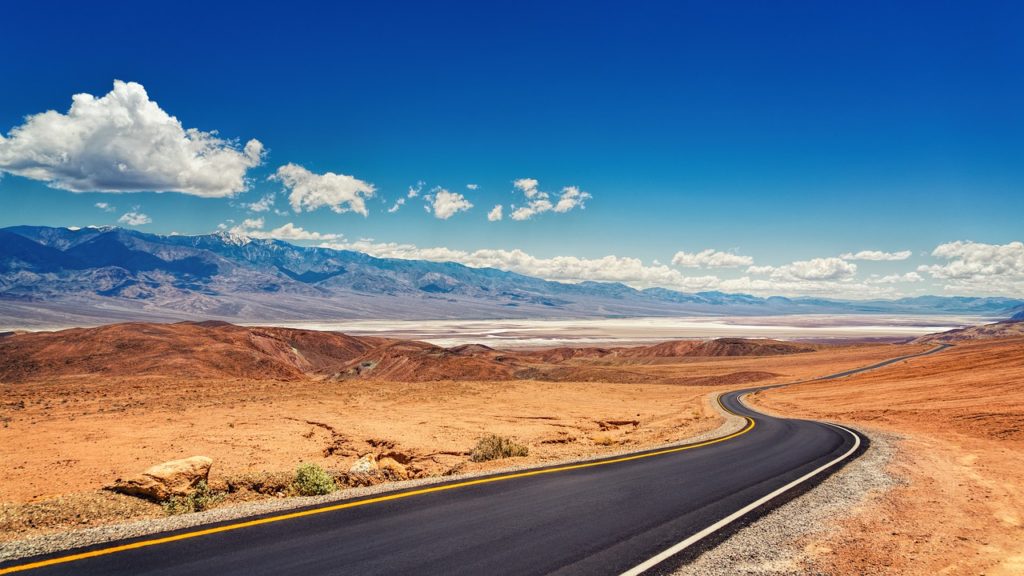 If you like the idea of exploring sand dunes, climbing down into an extinct volcano, hiking through canyons, and seeing one of the United States' most unique landscapes, Death Valley is calling your name. It is one of the most understated national parks and largest U.S. National Park outside of Alaska, from multi-colored mountains to sand dunes. This location offers all that and so much more.
The first thing you will see is the park entrance sign. About one mile down the road is a pay station. There is no park ranger or ticket booth here like in many other national parks. You simply park, pay your fee ($30 per vehicle, valid for 7 days) at the automated pay station, put your receipt/ticket on the dashboard, and then continue on your way.
These are the essential things to do during your stay at Death Valley National Park
Dante's View
Badwater Basin
Artists Drive
Harmony Borax Works
Natural Bridge
Golden Canyon hike
Mesquite Flat Sand Dunes
Lava Tube in the Mojave National Preserve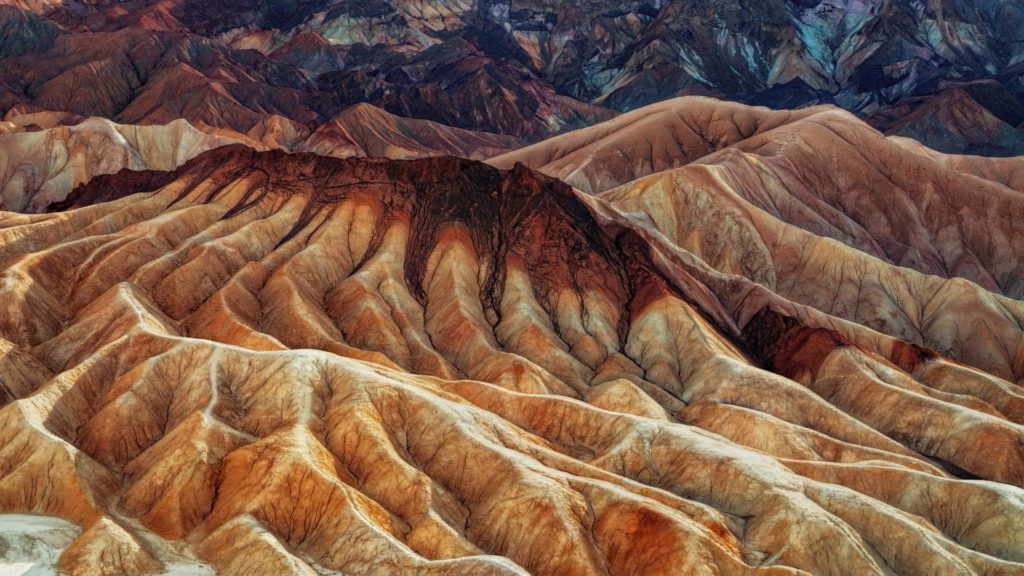 Advertising
Mono Lake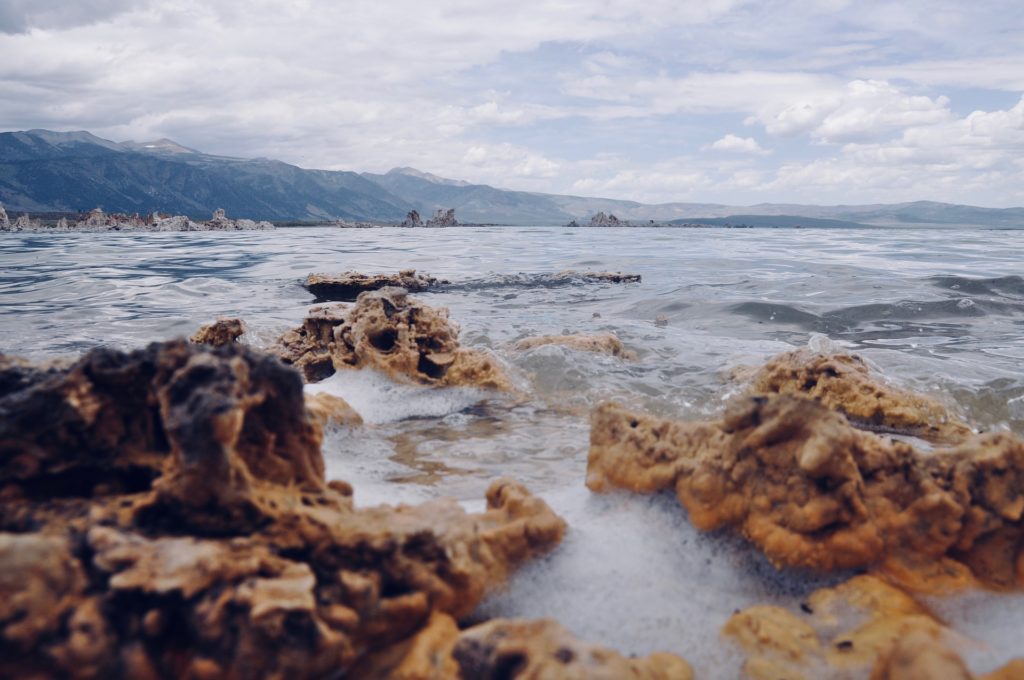 Mono Lake is a salty lake, which is also particularly alkaline. Due to the increase of the salt content in the lake, which is a consequence of the drinking water discharge of Los Angeles, you will find bizarre calcareous tufa formations on its shores. The access to the lake is via a gravel road and costs 3 USD / person. A visit to the lake is possible all year round.
Our tip: A visit to Mono Lake is a good idea on the way to Yosemite National Park, as it is on the way to the Tioga Pass, which leads to Yosemite National Park.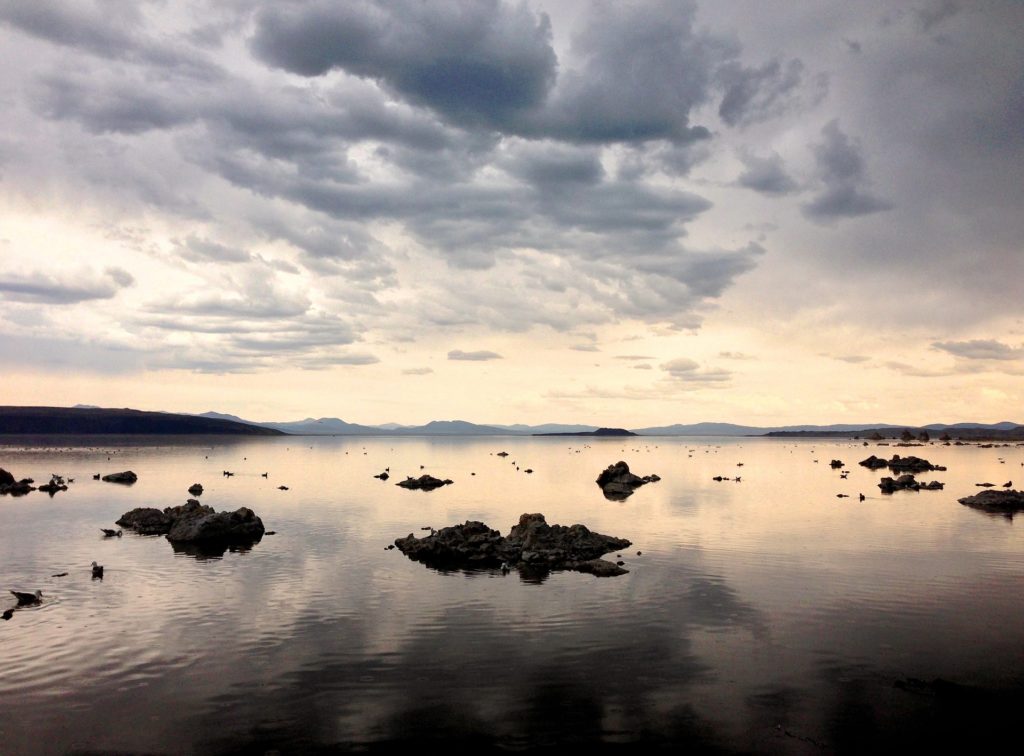 Once you arrive at Mono City and Mono Park, you will be very confused about where to go. The best place to photograph Mono Lake is Called South Tufa. It is a trendy place, and it is straightforward to get to. All you have to do is follow the sings.
Yosemite National Park
A visit to Yosemite National Park is a must on a road trip through the western USA.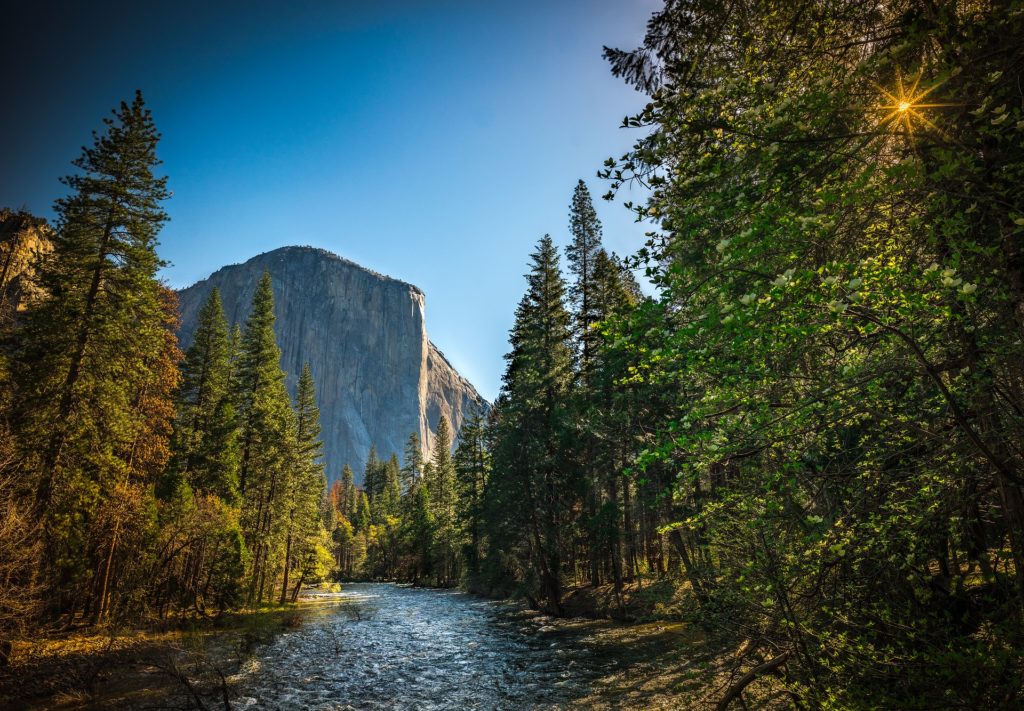 In the middle of the Sierra Nevada in the east of California lies the Yosemite National Park. High mountains, waterfalls, sequoia groves and the Yosemite Valley can be discovered in the park. You can explore the over 3,000 km² National Park either on the well-developed road network or with one of the free commuter buses. Furthermore, there are numerous hiking trails with different levels of difficulty at your disposal. A walk through the park is definitely recommended and will take you from one great view to the next. 🙂 Yosemite National Park is open all year round.
Yosemite has 3 visitor centers: Tuolumne Meadows (east), Yosemite Valley, and the Wawona (south) Visitor Centers. Stop at any of these to get a souvenir and talk with a park ranger about all the things to do in Yosemite. And don't forget to get your National Park Passport book stamped! (Also, do NOT pay $30 for this book! You can grab one at almost any visitor center for around $10.
You shouldn't miss these spots
Tunnel View
Bridalveil Falls
El Capitan
Glacier Point
Yosemite Falls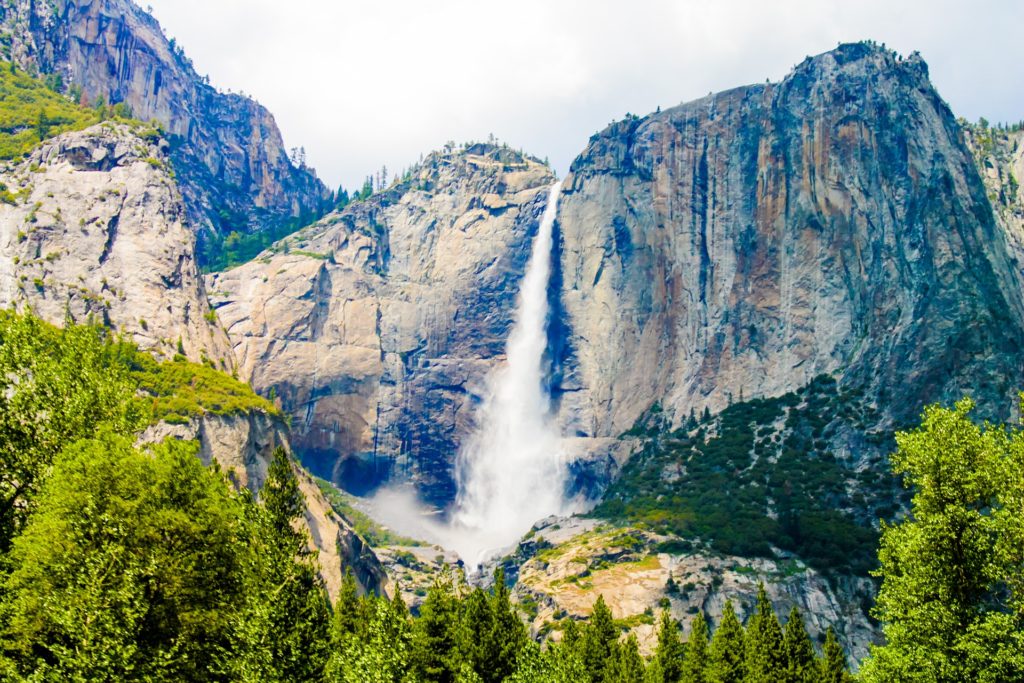 If you take this trail, expect to get wet. The mist from Bridalveil Falls extends out way further than you'd think. It's hard to take a picture of the falls from the end of the trail because of the amount of mist coming off the waterfall.
Advertising
Those were our suggestions for a road trip through the western United States. What do you think shouldn't be missed on a West Coast tour? Leave us your tips in the comments 🙂
Follow us on Facebook, Pinterest and Instagram!
The best at the end: You can save yourself the trouble of creating waypoints and simply follow them. We have already created the route for you. You can find it under the name "West Coast USA Tour" in the example trips in the Lambus App.
---
Lambus is the "Swiss Army knife for travel planning": waypoints, documents, photos and travel expenses. Everything in one app and available offline. Get the Lambus App for iOS & Android now!