Backpacking is one of the best ways to travel! You will meet lots of like-minded people, explore the nature of the countries, discover things you wouldn't have seen on a booked tour and so much more! There are tons of destinations that are perfect for Backpacking! But you might ask yourself which place is the most suitable for you? Especially as a first time Backpacker it can be hard to decide where to go to! No worries, we've got here 10 easy backpacking countries all around the world!
If you need some tips for your First Time Backpacking, on how to plan your trip, what to pack and other important things to keep in mind, then check out our blog post about Backpacking for Beginners!
---
This article contains advertising links with our recommendations. With the booking/purchase via one of the links, we receive a commission with which you support our work. Of course, it costs you nothing extra! Thanks for your support!
---
Backpacking in Europe
Europe is perfect for Backpacking! There are lots of safe countries, the public transport is pretty good and you can see lots of different things in a short amount of time!
Ireland
If you enjoy the nature and don't mind a chillier weather, than Ireland is perfect! If I think of Ireland, thousands of kilometers of beautiful coastline, mysterious castles, friendly people and lots of beer comes up to my mind. However, Ireland has so much more to offer! For instance, Dublin and Galway are both unique cities that you should definitely stop by to learn something about the Irish culture and history. Besides, I am sure if you stay here in a hostel, you will meet lots of other fellow backpackers.
For the nature sight make sure to visit county Donegal. The highest mountain in Donegal, Mount Errigal, and the valley Dunlevy Lough areworth a visit. Close by, there is also a beautiful lake in a fairytale-like forest. Moreover, Glencolumbkille, a little village, also located in Donegal,has some of the most spectacular views of the Irish cliffs and the Atlantic. But be aware, some of the hikes in this area are not recommendable for beginners.
The best time to visit Ireland is probably around spring and early summer. During this time, the weather is pretty sunny but not too hot… the perfect weather for Backpacking.
Georgia
Even though Georgia might not be the first place that you think of when thinking of Backpacking in Europe, but trust me, it is worthwhile! The small country next to the Black Sea has a unique landscape with desserts and green forests, mountains as well as beaches. So pretty much, something for everyone! Another reason to travel to Georgia is the rich culture, its history and traditional food. For instance, Khachapuri, cheese-filled bread and Churchkhela, a walnut snack. Many like to describe its culture as a mixture of Europe and Asia!
What to do and see
Go to the old town of Tbilisi and the region of Kazbegi. The letter, is a must see for everyone who loves hiking! You will be able to explore the Gergeti glacier and the infamous Stephantsminda church! Here, are also many different camping sites, which is perfect for the ones with less wild camping experience! Other places you shouldn't miss out on during your itinerary are Kutaisi and the Okatse and Martvili canyons.
And did you know? Georgia is the oldest wine making country worldwide! So, if you love wine and are interested in the process of making it, make sure to check out a winery!
Italy
Italy has so many beautiful places and cities. If you have already been, Italy manages to enchant you again and again! Depending on what you want to see, there are different routes, that are very suitable for Backpacking Beginners. The one we would recommend is Rome, Tuscany, Florence, Cinque Terre and Bologna. "All roads lead to Rome." And that is true, especially while backpacking. Rome has it all. From important historical sights, like the Vatican and the Colosseum to lovely neighborhoods for nights out! From Rome, you can then use public transportation like train or bus to continue your travels or rent a car to drive through the landscapes of Tuscany.
Driving through Tuscany it is better not to plan too much and see what magical places you come across! The charm about Tuscany are all the small villages and the endless vineyards in between! Some bigger cities that you could also visit are Siena with its medieval architecture and Verona, where 'Romeo and Julia' was set. In Florence you can spend a couple of days. Make sure to check out our Florence trip in the app to find out all the waypoints. Bologna, next to the Apennine Mountains, is not as touristy, which is perfect to get in touch with the Italian culture. Further, it is very known for its university life, since it home to the oldest university of the Western World. Bologna is the perfect village to experience a typical italian night out with good food and drinks on a terrace.
A few tips
In the bigger cities like Rome, Florence, etc. it is best to stay in hostels. There are many hostels, especially for young people and thus appropriate for Backpacking Beginners! In the rural areas, there are many rural houses or Airbnb's. If you are travelling by yourself, make sure to stay close to a village or other houses! For more tips on accomodations check out our blogpost: Budget travel essential tips!
The best time to travel to Italy is probably May-June and September-October. You will avoid the tourist crowds and the weather will still be warm around 20 C°. Besides, make sure to go to smaller and local restaurants and avoid the chain restaurants. Italian food is one of a kind and by going to traditional restaurants you will be able to try some of the best pizza and pasta.
South America
Ecuador
The country, where the equator goes right through, Ecuador. It may be best known for the Galapagos islands, but the mainland is at least as beautiful and fascinating! You will be able to climb the Andes, discover the Amazonas rainforest, be on the northern and southern hemisphere at once, and so much more in just a few weeks. And the best part about it all, it is not that popular yet. Thus, it is a lot cheaper and less crowded!
Similar to other South American countries, the easiest way to travel around is in buses. But make sure to choose safe and trustworthy companies. As in accommodations we'd recommend to sleep in hostels. The prices are around 5 to 10 dollars a night. Here are a few hostels that have been recommended by young travelers: Hostel Moai in Montañita, Colonial House in Quito and the Hostal Sendero de Volcanes near Latacunga.
Peru
Peru is very diverse and with lots to discover! A great option is to visit the Amazonas rainforest. There are a lot of different tours starting from Iquitos, in the north of Peru. If you prefer the mountains, then the Andes are perfect for you! Not only is Machu Pichu here but also the Rainbow Moutain, the Laguna Humantay and the Titicaca Lake. Therefore, I recommend you to stay a little longer in Cusco. It is the perfect starting point to the destinations above and their hiking routes. For instance, to get to Machu Pichu you could either take the train and bus or do a hike there, the Inka Trek. For the more experienced and adventurous ones, the Salkantay trail is a great variant.
However, remember that Cusco's elevation is about 3500 m, so while hiking, consider the altitude and don't overexert yourself!
In general, Cusco is a great destination for Backpackers! There are plenty of affordable hostels and the town is full of other Backpackers, so you can meet lots of fellow travelers from all around the world!
Another place in Peru that is great to visit is Arequipa or also known as the most beautiful city in Peru. The oldtown is knwon for its white houses and the bohemian style! From here, you can reach many hiking destinations, among them the Volcano Misti!
Bolivia
Backpacking in Bolivia means going off the beaten path. Unlike other South American countries, it is not as influenced by the western culture. Therefore, you will be able to get in touch with the Native American culture and history like nowhere else!
However, there are not many international flights to Bolivia. Therefore, it is easier to travel from its neighboring countries. If you also want to visit Peru, then a great possibility, is to visit the Titicaca Lake. It connects both countries and is the highest navigable lake worldwide. From here you can continue your travels to La Paz, Bolivia's capital. Fun fact: with 3500 m above sea level, it is the highest capital in the world!
Other places you should visit in Bolivia are the twin national parks Amboro and Carrasco, the Camino de la muerte, a bicycle adventure, and of course, not to forget, Sucre and the Salar de Uyuni. They are the world largest Sea Flats and very #instagammable! All in all, we can say that even though Bolivia is a small country, it is a place rich in culture and nature that waits for you to be discovered! By the way, it is great for budget travelers!
Bolivia is considered as one of South Americas safer countries. However, since it is not as touristy as Peru, Chile, etc. you should still be careful. Research in advance the safe neighborhoods in the bigger cities. And also check the official transportation companies as well as trustworthy tour operators. As in many Latin American countries, we recommend to rather use an app like Uber or another similar app than taking taxis on the streets.
Backpacking in Asia
Sri Lanka
Sri Lanka is an island in the middle of the Indian Ocean and very suitable for Backpacking. Due to its small size a lot can be discovered in a short amount of time! You can surf and relax at the beach, or explore Sri Lanka's highlands and rainforests!
Travelling through the mountain landscape
The public transportation in Sri Lanka is pretty good, which is great for any Backpacking Beginner. The cheapest one is a public bus. They are colored and have traditional Indian music playing. It may not be the most comfortable way of travelling, but it's definitely an experience! A more comfortable way of travelling is to take an Intercity Bus.
When travelling through the Highlands you should definitely take a train. A very spectacular train ride is the one from Kandy to Ella and is a must see! From there you can go to Adam's peak, a beautiful mountain that allows you the prefect view over the whole island. Another stop on the ride between Kandy and Ella is Nuwara Eliya. You can climb up to the Haddon Hill and admire the beautiful view over the tea plantations. More places in Sri Lanka's highlands that you should see are the Golden Temple of Dambulla as well as Sigiriya rock right next to it.
Backpacking on the coast
Travelling along the coast you should go to Argugam Bay and Hikkaduwa, if you are looking for a surfing spot. By the way, these are also great locations to discover the underwater world of the Indian Ocean. For some culture and history, make sure to check out the Portuguese colonial city Galle and Trincomalee in the north of the island, where you will be able to deep into the country's culture.
And not to forget Sri Lanka's amazing wildlife. In the Yala and Udawalawa national parks you can do Safari tours and see elephants, monkeys, crocodiles, etc.!
Philippines
Compared to its neighboring countries like Thailand or Vietnam, the Philippines are less touristy! It consists out of 7000 islands that have many great and unique places to visit. For instance, is there an island called Coron and its only accommodation is a floating boat house!I mean, how outstanding is that?
The easiest way to travel between the islands is to fly or to take a boat. For travelling around on an island, there are local buses, called jeepneys, tuk-tuks or car/moped rental options. Additionally, it is good to have the app 'Grab' to order taxis. It is safer than to call a taxi "from the street" and you will less likely get ripped off. Other practical apps you will probably need are booking for your accommodations, Skyscanner for your flights and 12goAsia for your boat booking.
Thailand
You've probably already heard of Thailand as a popular Backpacking destination. Well, let me tell you why! Not only is it great for budget travelers but it is also pretty safe, even as a female-solo traveler. Besides, there are many backpackers in Thailand throughout the whole year. That way you will always have the possibility to connect with other people or even find new Travel buddies! Not to forget are Thailand's culture and spiritual traditions!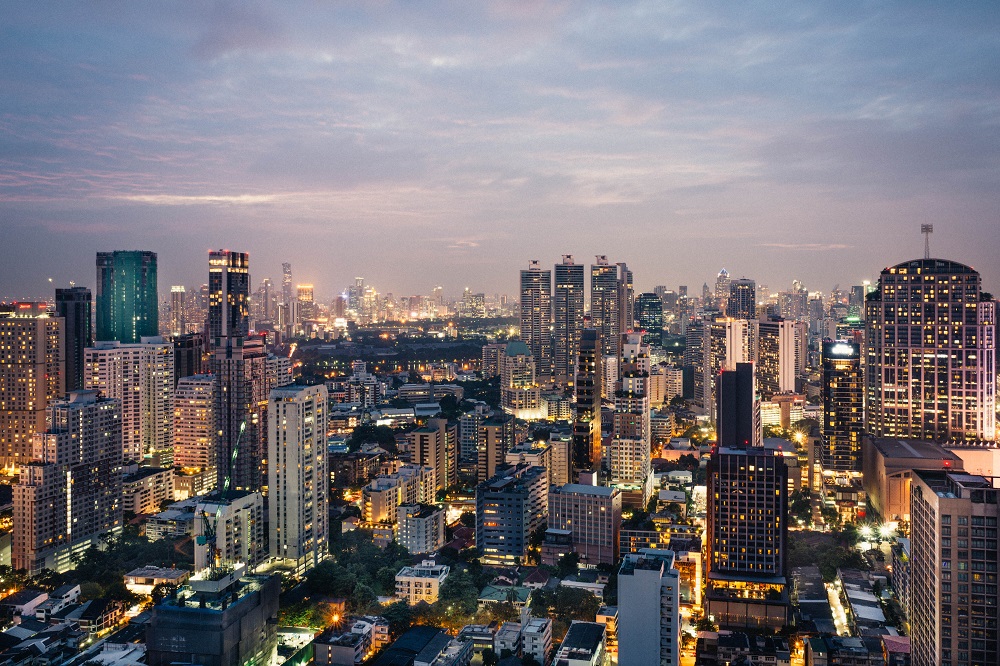 Depending on what you prefer you can either stay in the North of the island exploring the jungles and breathtaking nature, enjoy the beaches and islands in the south, join a meditation retreat or visit the temples! However, it is better to book your Airbnbs in advance. That way you will save some money!
We recommend to avoid travelling to Thailand during the popular season around March and April. Offseason you will save a lot of money and there won't be that many tourists.
Australia
Backpacking in Australia might first sound like a cliché, but there is a reason why it has become such a popular Backpacking destination! First of all, it is a very safe country, especially for solo travellers, which makes it very suitable for First-time Backpackers! Secondly, the official language is English. Thus, you will have no problems with communication. To travel around I would recommend to rent a car, since you will be very flexible and can avoid all the tourists' crowds.
Besides visiting the big cities like Sydney and Melbourne, you should drive along the Great Ocean Road and appreciate the breathtaking views over Australia's cliffs and long beaches. There are also various tropical towns you should stop by, like Darwin and Cairns, that are both also known for the wild Partys among Backpackers! A great tip for Backpackers is to go to the West Coast. You could stay in the colonial town Fremantle and from here discover Australia's West coast as well as the beautiful island of Rottnest, where you will come across the animals Quokkas!
Follow us on Facebook, Pinterest, and Instagram!
---
Lambus is an All-In-One travel platform. Your whole trip in your pocket: Waypoints, expenses, tickets, photos, and more!