A city trip to Lisbon offers many exciting impressions with pleasant temperatures all year round. Colourful house facades, patterned streets traversed by rails and impressive buildings: whoever has been to #lisbon once, does not want to miss these memories anymore. More than half a million people live in the most south-western capital of europe.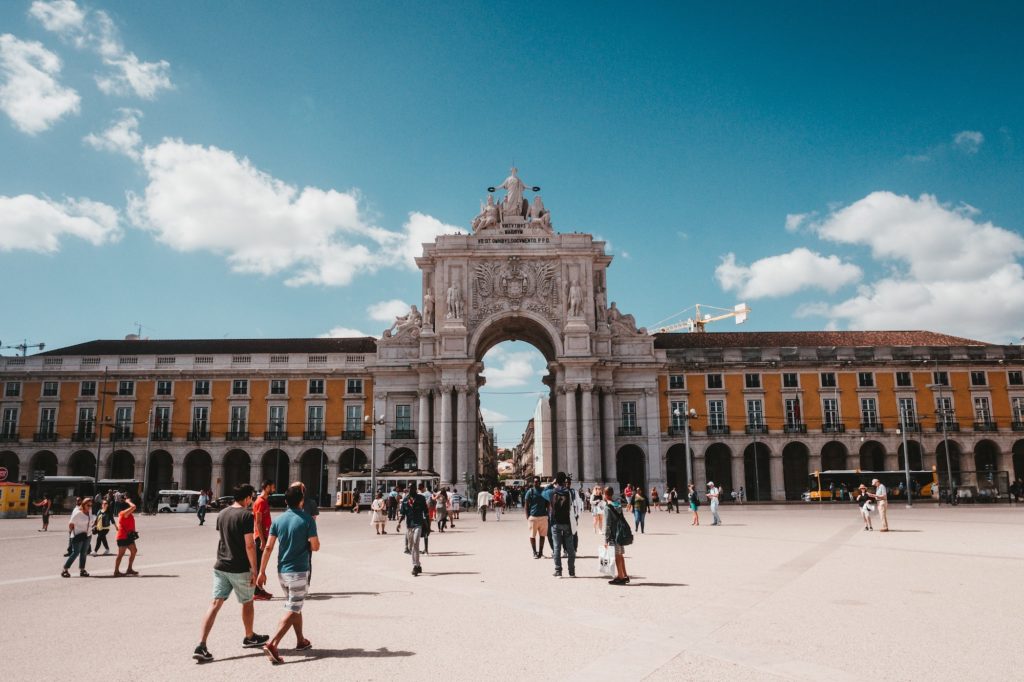 ---
This article contains advertising links with our recommendations. With the booking/purchase via one of the links we receive a commission with which you support our work. Of course it costs you nothing extra! Thanks for your support!
---
Best Travel Time For Lisbon
To get to know the many facets of the city and to have time to see the sights more closely, you should plan a city trip to Lisbon for about a week. The most popular time to travel to Lisbon is between May and October. During this time the probability of rain is low.
Between June and September there is pleasant weather for bathing at the Atlantic Ocean. The average maximum temperature is about 30 degrees. The cool Canarian current, which moves to the south, provides a light refreshment.
In the winter there is more rain, but the temperatures are with an average of 8 to 15°C in the mild area.
Means Of Transport
Lisbon is situated on seven hills, which makes it almost impossible to visit all important places on foot. However, it is also no fun to visit the city by car or camper. The streets are full and partly extremely narrow and steep. But don't worry: the sightseeings are all easily accessible by tram, small buses or subway. Sit down in a tram for a first overview and marvel at how patiently the tram drivers maneuver the train through even the narrowest alleys.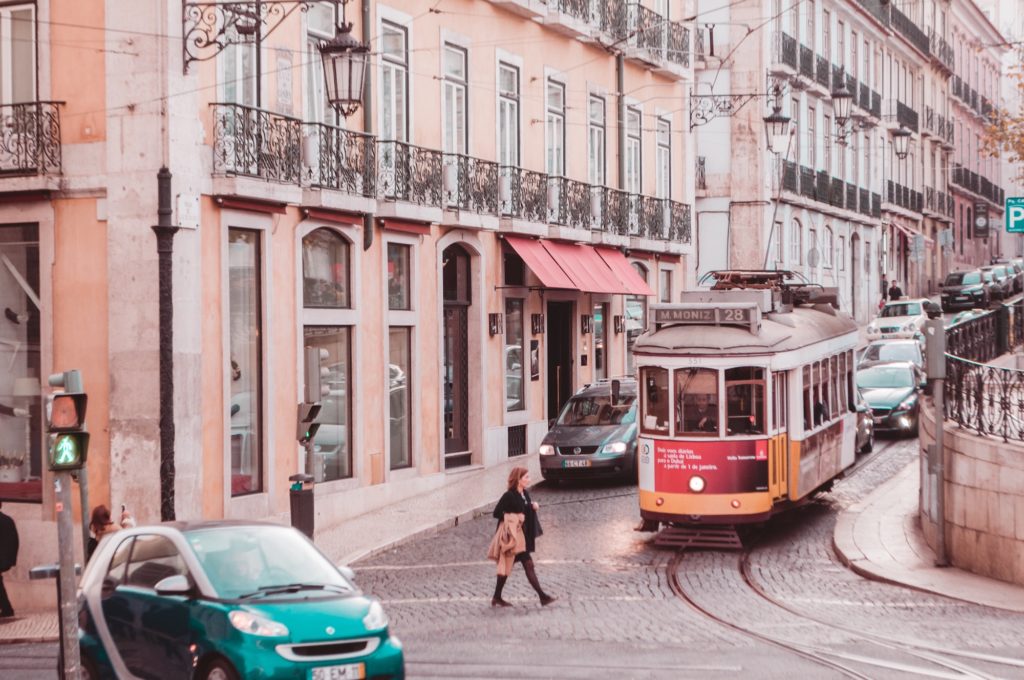 Our tip: Get yourself a Lisbon Card. With it you can travel for free on public transport, have reduced admission to more than 20 sights and museums and save a lot of money in restaurants and the like. You get the Lisbon Card for 24 hours, for 48 hours and for 72 hours.
You can also book a private car service to get from the airport to the city or vice versa via providers such as GetYourGuide.
Affiliate Link
Places Of Interest In Lisbon
You will soon discover that all of Lisbon is incredibly beautiful, so it is not easy to say which are the most beautiful sights. But when you travel to Portugal's capital, you should not miss the following:
The most beautiful place in Lisbon is the Praça do Comércio! It is located directly on the banks of the river Tejo and even has a small beach. Apart from the Rossio and the Praça da Figueira, it is the most famous square in Lisbon. Until the devastating earthquake of 1755, the royal waterfront castle stood here.
The historical fortress Castelo de São Jorge from the 11th century is situated high above Lisbon and is visible from almost everywhere! Named after King São Jorge (14th century), the site houses dozens of excavations of Roman and Moorish treasures.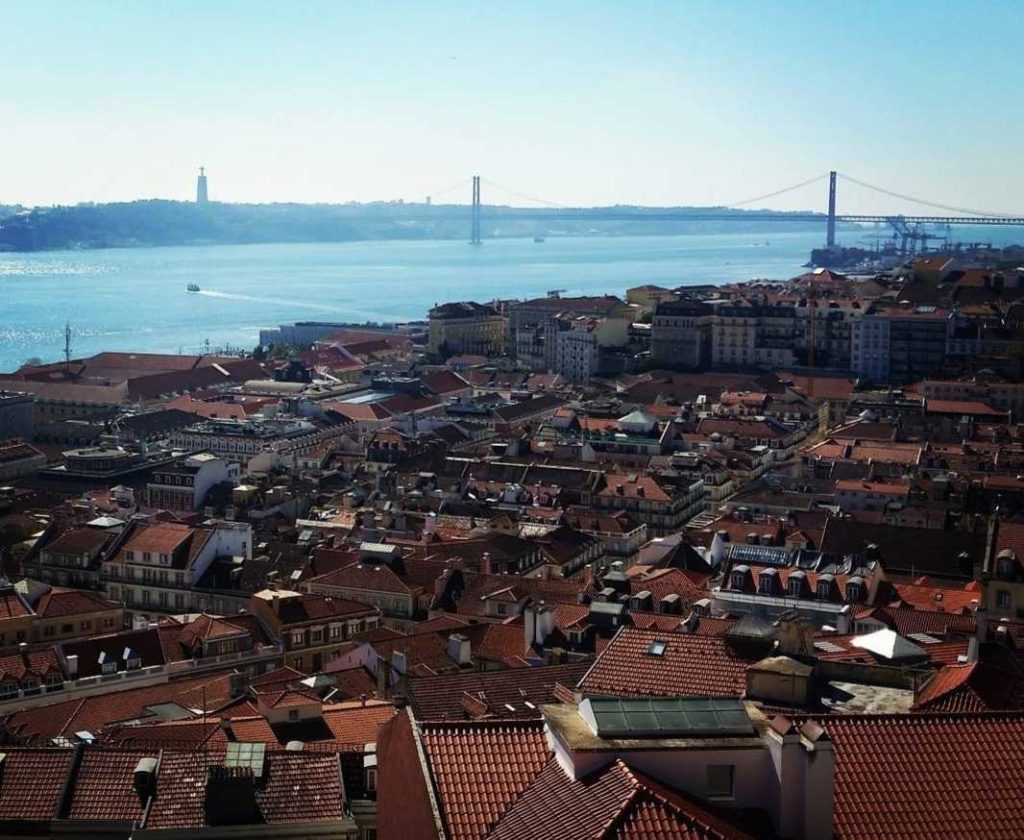 The Elevador de Santa Justa passenger elevator has connected the districts of Baixa and Chiado for over 100 years. It was originally powered by steam engines, later by an electric motor, and overcomes the 8 meter difference in height between the two places. After arriving at the upper level, you can continue on a spiral staircase and admire the drive of the elevator. Even further up there is a café with a beautiful view.
Some impressive highlights await you in the Belém district. Take a look at the architecturally impressive Hieronymus Monastery, which has remained almost completely intact despite the great earthquake of 1755, and its beautiful courtyard. Meanwhile, the monastery is a UNESCO World Heritage Site.
Affiliate Link
Treat yourself to one of the small tarts Pastéis de Nata at Pastéis de Belém or Antiga Cofeitaria de Belém. The pudding pies have been made since the 18th century in a small bakery near the monastery and are known far beyond the city limits. After refreshment, you should stroll through the small park to the Torre de Belém. The tower dates back to 1521 and has been bursting with wind, weather and even earthquakes. Since then, this small watchtower has welcomed arriving ships for decades, before being converted into a prison and arms depot in 1570. The tower has also been a UNESCO World Heritage Site since 1983. From there, it is only a few metres on foot to the famous discovery monument Padrão dos Descobrimentos. 
Your Lisbon experience should also include a ride on tram 28. The small yellow tram with the number 28 is something like an institution in Lisbon.  Put into operation in the 1930s, it radiates nostalgic charm.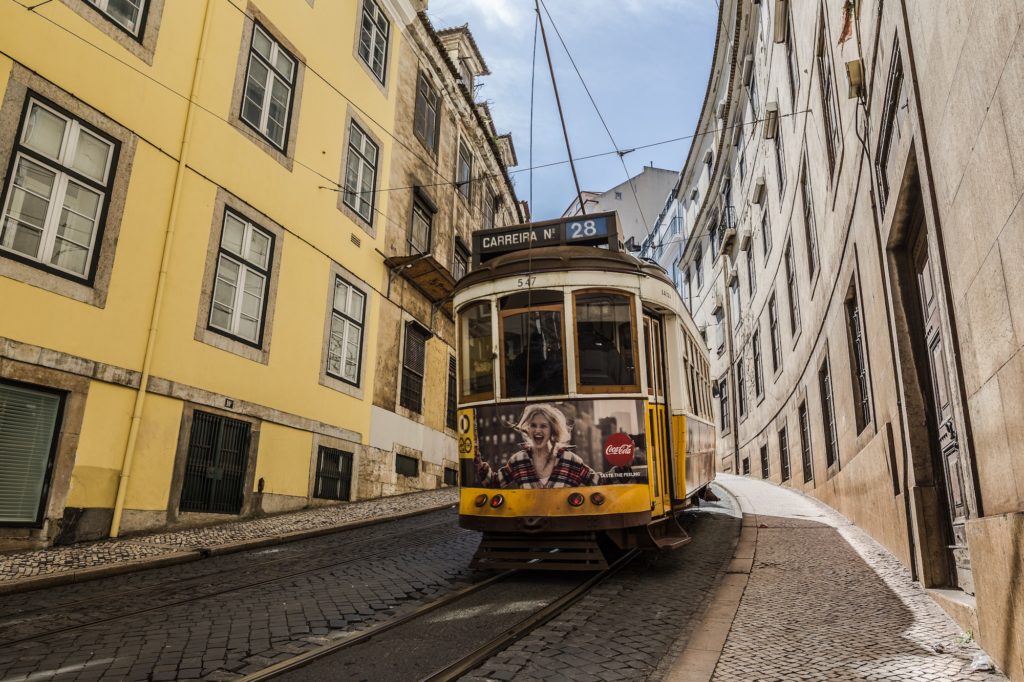 Although there is a lot to do in Lisbon, you will find other highlights and beautiful sandy beaches in the vicinity that invite you to take a swim: 25 kilometres from Lisbon is the town of Sintra, which you can reach comfortably by train – again free of charge with the Lisboa Card. Sintra has always attracted tourists with its mild climate and picturesque pine-covered hills. For Sintra, you should definitely plan half a day to a full day, depending on how much you want to see on site.  For its small area, the town on the hills of the Serra de Sintra has an astonishing number of attractions to offer. The best way to explore Sintra is by bus 434, a TukTuk or Uber.
Affiliate Link
Cascais is also a nice little town with some small beaches to relax. You have the choice to test one or all beaches. Popular are Ribeira Beach Cascais, Praia da Rainha, Praia da Conceição and Praia da Duquesa.
Curious? You can find the full itinerary for this Lisbon trip in the Discover section in the Lambus App!
Follow us on Facebook, Pinterest and Instagram!
---
Lambus is the "Swiss Army knife for travel planning": waypoints, documents, photos and travel expenses. Everything in one app and available offline. Get the Lambus App for iOS & Android now!